Afghan notebook: Life inside Badam-Bagh women's prison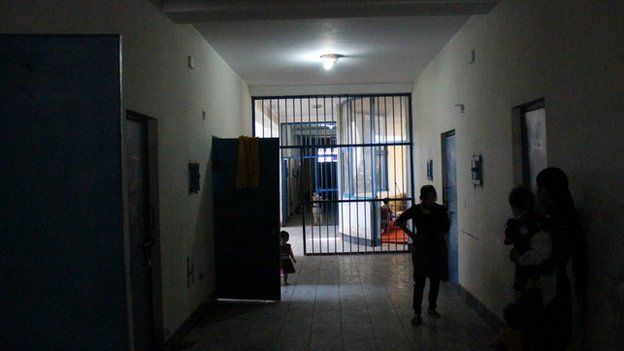 The release of 29 inmates from Kabul's Badam-Bagh women's prison once again raises questions over whether some of those inside are held unlawfully.
Many of those freed this month had been held after running away from home - escaping from a forced marriage or domestic violence is not uncommon in Afghanistan.
Running away from home is not a criminal offence, and some of the released women told the BBC that they were jailed without ever going to court.
Some said they were imprisoned without conviction for up to two years.
The women's affairs ministry is looking for shelters to take the women, who are unable to return home after their release.
As they walked through the prison gates, they left behind a unique place - even by the standards of Afghan justice.
Because in Badam-Bagh, Kabul's only women prison, convicted drug traffickers and murderers mix with women accused of "moral crimes", as well as dozens of children held alongside their mothers.
When I visited the prison a few months back I found a place that appeared to be in constant upheaval.
Two dozen small rooms are spread over three floors with around eight women sharing a room and the inmates I met were complaining about crammed conditions.
The prison perimeter is guarded by policemen, but the main building is entirely secured by female staff.
The atmosphere between prisoners and their guards is often tense.
Inside I came face to face with a young girl called Qabela who had been jailed for travelling from Badakhshan to Kabul with a young boy and for sleeping with him before marriage.
Her teeth were damaged and her right hand injured.
"I broke my teeth and injured my hand because I fight with anyone," she told me, "with my roommates, officers and guards."
"I remember when I tried to escape," Qabela says. "I have mental problems I guess and an eye weakness because they used spray on me when I fought with them."
Violence is common at Badam-Bagh.
Fareeda a female officer, told me that one of the prisoners tried to suffocate her while she was on duty.
"They are fearless," she says. "The prison is under their control and they do what they want."
She then showed me the spot where a glass of water had hit the guard room wall, thrown by an inmate as Fareeda was taking shelter.
She says a small number of the prisoners provoke the rest, creating chaos.
There is no closed circuit TV inside the building and no footage which would back up these stories, but another inmate Zahraa blamed the prison staff for having a bad attitude.
She herself has been accused of bullying fellow prisoners, but says that with so many women from different backgrounds and experiences, occasional fights are only natural.
"Imagine a bride and her mother in-law in a house - even they can't come together. Then how do you expect these poor prisoners to do so."
Zarafshan Nayebi is in charge of the prison, and she told me they don't want to use force to establish control of the prison.
"We often show tolerance with the prisoners," she told me in her office.
Amid the tension and upheaval there are concerns about the welfare of more than 50 children and babies living in Badam-Bagh, imprisoned alongside their mothers.
I saw a bunch of kids playing in the dark corridors in unsanitary conditions.
One woman who has been serving a 14-year term since 2012, has been jailed with her five children. She told me she's scared that her kids will one day ask her why they were deprived of their freedom.
"They will be young boys and girls when I reach my release date and I know they will ask me what their crimes were," she says while playing with her little girl.
Badam-Bagh is located beside a cemetery in a quiet area of Kabul.
It currently houses over 200 prisoners, mostly Afghans, held for a multitude of reasons, from murder and kidnapping to adultery or simply for "running away from home".
Human rights groups have long complained that many women are locked up in Afghanistan simply for fleeing their homes, often from forced marriages or domestic abuse.
The lobby group Human Rights Watch last year reported that 600 women had been imprisoned for "moral crimes", over 100 of them under 18 years old.
And these women face problems even before they come to Badam-Bagh or similar institutions elsewhere.
One young prisoner called Khalida who was detained for running away from home told me she'd been propositioned by a prosecutor dealing with her case.
She says he asked her for sexual favours in return for going free. "I rather come here than to sleep with that man," Khalida told me.
The government has long promised to address cases of women held without having committed a criminal offence or being convicted.
These latest releases may go some way towards that goal, but as long as domestic violence persists, the problem of women jailed without a crime will continue.