Australians say sorry to asylum seekers via new website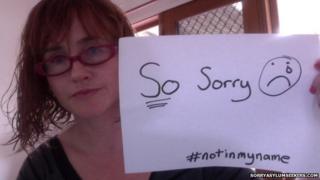 Amid controversy over Australia's asylum seeker policies, one man is urging people to humanise the debate.
Ryan Sheales, from Melbourne, started a website last Friday that hosts photos of Australians apologising for the current treatment of asylum seekers.
He said there had been a strong public response to the website, which has received over 250 photos so far.
It comes amid tough questions over Australia's offshore detention policy, after one man died in Papua New Guinea.
The government says its policies have saved lives and successfully stopped asylum boats from arriving in Australia. Prime Minister Tony Abbott said earlier this month that the policies "are tough, but they are working".
Polls suggest a majority of Australians support the government's approach.
'Back to people'
"The website sorryasylumseekers.com started out from a feeling of helplessness," Mr Sheales told the BBC.
"The asylum debate in Australia has become very heated, emotive and nasty," he said. "Unless you fit neatly into one of the extreme camps for or against the asylum policies, it's hard to find a voice."
He said that he hoped his site would help people find common ground.
"For me, the site is not about good or bad politicians or policies, but saying that surely we can treat these people who are fleeing persecution in a more humane and compassionate way."
"I think if we can agree on these things, then perhaps we can have a sensible debate about the policies," he added.
Mr Sheales, a communications consultant, said he had received contributions from every Australian state and territory, as well as from Australians and foreign nationals overseas.
He said he hoped the site would be more than a "repository of goodwill" by "taking some heat out of the debate and bringing the focus back to people who are detained and seeking asylum".
The next challenge would be to try and get the messages to the asylum seekers, he said.
Public support
Australia sends asylum seekers arriving by boat for detention and processing in offshore camps in Papua New Guinea (PNG) and the Pacific territory of Nauru.
Conditions in these camps have been strongly criticised by UN agencies and rights groups.
However, the government says its policies have been successful in deterring people smugglers and discouraging asylum seekers from making the dangerous journey by boat.
Hundreds of migrants have died trying to reach Australian shores in recent years.
Polls suggest there is strong support for the government's asylum policies. In a December poll by UMR Research, 48% of respondents approved of the policies, compared with 39% who disapproved.
Of this 39%, there was no breakdown into those who thought the policies were too harsh or too lenient. But 60% of those polled also said that the government should increase the severity of the treatment of asylum seekers.
Investigations are currently underway into outbreaks of violence at Australia's immigration detention centre at Manus Island in PNG.
Violence broke out at the centre on 16 and 17 February, the latter clash leaving one asylum seeker dead and 77 injured.
There are conflicting reports about what sparked the violence, and exactly where and how the asylum seeker, Iranian Reza Barati, died.
Refugee advocates say the asylum-seekers were attacked inside the camp by local people and security personnel. Both Australia and Papua New Guinea are holding inquiries.