Japan to review lead-up to WW2 comfort women statement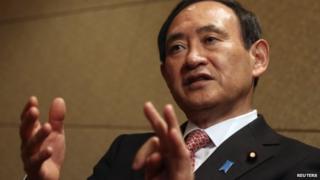 Japan will form a team to review the lead-up to a 1993 statement which acknowledged its wartime use of sex slaves, its top spokesman says.
Yoshihide Suga said the team would "re-examine and understand the background".
The acknowledgement that women were forced into sex slavery with Japanese military complicity was viewed as a landmark apology.
A former leader has said any move to review the apology, known as the Kono statement, would be "absurd".
Some 200,000 women in territories occupied by Japan during World War Two are estimated to have been forced to become sex slaves for troops.
Many of the women came from China and South Korea, but also from the Philippines, Indonesia and Taiwan.
The Kono statement - issued by then Chief Cabinet Secretary Yohei Kono in 1993 - acknowledged that women had been coerced, with the Japanese military involved in the establishment and management of the process.
This statement was based in part on evidence given by 16 Korean women.
It is unclear where this review of the material will lead. Any move to revise the statement is likely to be met by anger from Japan's neighbours.
'Academic' review
The comments from Chief Cabinet Secretary Yoshihide Suga came in a lower house budget committee session. He did not say whether Japan would issue a new statement following the review.
The issue was first raised last week, when Mr Suga said that a review "from an academic point of view" was desirable.
It came after a former senior official involved in drafting the statement said that the testimony of the 16 Korean women had not been independently verified.
Some conservatives in Japan have argued that the women, known euphemistically as "comfort women", were prostitutes - claims fiercely denied by the women and Japan's neighbours.
Former Japanese Prime Minister Tomiichi Murayama has urged against any revision of the apology.
Speaking in Tokyo on Thursday, Mr Murayama, who was prime minister from June 1994 to January 1996, said that the Kono statement was based on evidence.
He also cautioned against any moves to revisit his historic 1995 statement to mark 50 years since the end of the war, which offered a "heartfelt apology" for actions during Japan's "colonial rule and aggression" which "caused tremendous damage and suffering".
"He [Japanese PM Shinzo Abe] cannot deny it, as the Murayama statement has been adopted by all prime ministers whether they are from the Liberal Democratic Party or Democratic Party of Japan," he said.
"In a sense, it is agreed by international communities and becomes a definition. It is unreasonable and impossible to deny it," said Mr Murayama.
Comments from Mr Abe in the past have suggested he could revisit this statement. Most recently, however, his spokesman has said that he will leave it alone and may instead issue a statement "that will suit the 21st Century".
Commemoration days
The news comes a day after China approved two national days to mark the Nanjing massacre and Tokyo's World War Two surrender.
Chinese lawmakers on Thursday approved 3 September as Victory Day and 13 December as a memorial day for Nanjing, Chinese state media said.
A Chinese spokeswoman said marking the days was "a necessity in current circumstances".
Mr Suga called the decision an internal affair of China's.
"I can't deny there is a question why they have to set up these commemoration days more than 60 years after the war," he said.
"But this is a domestic matter for China, so the government declines to comment on it."
Chinese state media said that national memorial activities would be held on the two days each year.
Ties between Japan and China have been severely hit by a territorial row over islands in the East China Sea.
A visit late last year by Japanese Prime Minister Shinzo Abe to the Yasukuni Shrine - where Japan's war dead, including convicted war criminals are honoured - also angered regional neighbours.
China accuses Japan of failing to adequately address its wartime actions. Japan says it has apologised many times - but recent controversial comments by senior Japanese figures have fuelled regional anger over alleged rewriting of history.