Pakistan to halt targeted air strikes against Taliban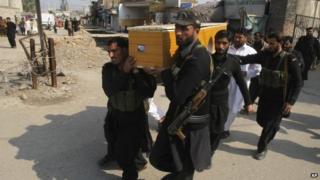 Pakistan says it will stop air strikes against the Taliban, after the militants announced a month-long ceasefire.
However, it said it "reserved the right to respond to any violent activity" carried out by the Taliban.
The Taliban announced the ceasefire - aimed at reviving stalled peace talks with government - on Saturday.
The talks broke down last month, after Taliban-linked militants said they had killed 23 soldiers they were holding.
This triggered air strikes by the Pakistani military against suspected militant hideouts in the north-west.
Taliban spokesman Shahidullah Shahid said on Saturday that the Taliban had decided on a ceasefire "because of a positive response from the government, an appeal from the religious scholars and for the better future of Pakistan".
He requested the Pakistani government to fulfil the group's demands, which include an end to US drone strikes and the introduction of sharia law.
Pakistan's government welcomed the ceasefire as a "positive development", and said it was prepared to resume talks.
Officials agreed to arrange a meeting between the two sides "within a day or two".
Increase in attacks
The government's decision to hold peace talks has been criticised by some Pakistani opposition parties because militant attacks have continued.
Correspondents say many in Pakistan are sceptical of the Taliban's announcement of a ceasefire, pointing out that the central Taliban leadership has little or no control over other jihadists and Islamist extremists.
The Taliban have recently stepped up attacks against targets in Pakistan and Afghanistan, ahead of an anticipated reduction in the number of US troops in the region in 2014.
Hundreds have died in Pakistan in a series of bomb and gun attacks in recent months.
The Pakistani Taliban, also knows as the Tehrik-i-Taliban Pakistan (TTP), are based mainly in the north-west, but have staged attacks across the country.