Fizza Malik: Face of Pakistan's latest tragedy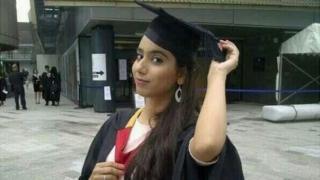 Young Pakistani lawyer Fizza Malik is being seen by many as the face of the latest tragedy in Pakistan's conflict. The country's media and social networks have seen an outpouring of grief since it emerged she had been killed in Monday's attack on a local court in Islamabad, reports BBC Urdu's Iram Abbasi.
"I wish my sister had listened and come with me to Dubai," said her brother Ali.
Aged 23, Fizza had just qualified as a lawyer. She was working on a criminal case in the court in the city's F-8 area when militants mounted a suicide gun and bomb attack on the premises.
"She used to love Pakistan so much that she never wanted to settle abroad but who knew her own country will become her killer?" her mother told the BBC, with tears in her eyes.
"My Fizza was so beautiful she didn't have to die so young."
Ms Malik graduated from Islamabad School of Law last year under a distance learning programme with the UK's University of Northumbria and had been practising for only a very short time.
She was the only sister of two brothers who both work in Dubai. Her other brother Asad was weeping openly on his mother's shoulder when I entered the family house.
"The menace of terrorism took my sister away - no brother could feel his sister is safe if she steps out of house to work," he said as he remembered their last phone conversation.
Her father told me how caring his daughter had been: "We've sacrificed our daughter and it'll be in vain if this country doesn't stand up against terrorism. Will the government honour our sacrifice?"
Ms Malik had lost the sight of one of her eyes and had been receiving treatment in the US but her friend Ahmed told the BBC she had been so ambitious "even that didn't stop her from pursuing her goal of being the best criminal lawyer in the country".
At least 11 people, including a judge and several other lawyers, were among those killed and more than 20 others were wounded in the assault on the court. Colleagues and friends remembered a young woman brimming with energy and potential in an article on the Dawn news website.
"A life snuffed out," read the headline in Express Tribune.
News of her death spread rapidly on Twitter.
"We bury r children & move on. No change," read a message from human rights activist Alizeh Iqbal Haider.
"#RIP all those who are not among us today," tweeted Nazrana Yousufzai.