Fiji army chief Bainimarama steps down to contest polls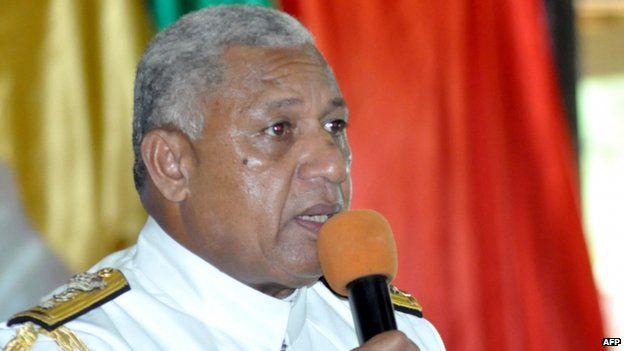 Fiji's military leader, who seized power in a bloodless coup in 2006, has stepped down ahead of national elections set for September.
Commodore Frank Bainimarama resigned his position on Wednesday, so that he can contest the polls as a civilian.
The move was welcomed by neighbouring Australia and New Zealand, who said it was an important step for Fiji's return to democracy.
Fiji experienced four coups between 1987 and 2006.
Mr Bainimarama pledged to "create a better Fiji for ourselves and for future generations" as he resigned, AFP news agency reported.
September's elections will be the first since the 2006 coup.
Australia and New Zealand imposed sanctions following the coup, while the Commonwealth fully suspended Fiji's membership in 2009, after the military government refused to call polls by 2010.
Responding to Mr Bainimarama's resignation on Wednesday, Australian Foreign Minister Julie Bishop said it was "the latest in a series of positive developments in Fiji's election preparations, and its return to parliamentary democracy".
New Zealand Foreign Affairs Minister Murray McCully said in a statement: "Separating the government and the military is an important step toward holding credible elections in Fiji later this year."
However, activist groups said that serious concerns over Fiji's human rights record remained.
Amnesty International's New Zealand director Grant Bayldon said: "Despite Fiji's government professing a commitment to freedoms in the lead up to elections, the fact that it is willing to overlook torture and other ill treatment by security forces certainly suggests otherwise."
In March last year, Fiji police launched an investigation after a video showing two men said to be escaped prisoners being brutally beaten appeared online.