Seoul: China plane 'flew near North Korea missile path'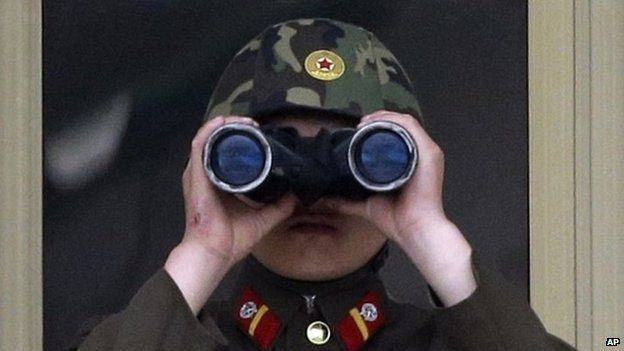 South Korea has criticised a North Korean missile test which it says took place as a Chinese passenger plane flew in the area.
Tuesday's launch was one of several missile tests conducted by Pyongyang in recent days.
"There were no accidents, but a very dangerous and serious situation could have occurred," a spokesman said.
A Chinese foreign ministry spokesman expressed concern and said Beijing would seek more information.
North Korea often conducts short-range missile tests, and has fired several missiles into the sea, off its east coast, in the past week.
The missile tests coincide with annual joint US-South Korea military drills, which Pyongyang condemns as provocative.
The Chinese plane, which carried more than 200 passengers, was heading from Tokyo in Japan to Shenyang in China on Tuesday, South Korean officials said.
The North Korean missile was launched at 16:17 local time (07:17 GMT). The plane passed through its trajectory seven minutes later, they added.
"An aircraft passed by as the ballistic missile fell. On a safety level, this is a serious issue of concern," said South Korea's Defence Ministry spokesman Kim Min-seok.
"The failure to protect the safety of civilians by issuing an advanced navigational warning according to international norms is a serious threat."
Qin Gang, a spokesman from China's foreign ministry, said on Thursday that Beijing attached "high importance to the security of national civil airlines".
He added that "necessary measures" should be taken when conducting military drills to "ensure the security and safety" of civilian ships and aircraft.
"Without any doubt, China will verify the relevant situation with the relevant party and express necessary concerns over that."
North Korea's state-run news agency, KCNA, cited an unnamed army spokesman who called the rocket launches "self-defensive actions of justice".
There were "meticulous advance safety measures over the flight path and the designated waters", the spokesman added.
Meanwhile, the US asked the UN Security Council to take "appropriate action" against North Korea's missile launches.
In a report to the Security Council, the US said that Pyongyang's launches on 27 February and 3 March "clearly used ballistic missile technology".
Under UN resolutions, North Korea is required to abandon its ballistic missiles programmes.