Australia missionary describes North Korea detention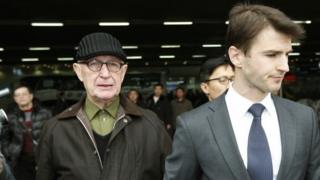 An Australian missionary deported from North Korea has spoken out about his experience in detention.
John Short, 75, was detained in Pyongyang after leaving Christian pamphlets at a tourist site.
In a statement to the Australian Associated Press, Mr Short said he was subjected to "gruelling interrogations".
"There were two-hour sessions each morning, which were repeated again in the afternoons,'' he said.
Mr Short also said being confined was stressful.
"This I found to be most painful physically as an active senior person," he said.
The Hong Kong-based missionary said he told his interrogators he was not a spy.
"I confessed that I had knowingly broken the law in what I believed is my God-directed duty and as I do in every place and country I visit," he said.
Religious activity is severely restricted in the North and missionaries have been arrested on many previous occasions.
Mr Short's wife previously told journalists that her husband knew North Korea was not a tourist destination, but he "cared about the people".
John Short was deported by North Korea on Monday.
Australia does not have a diplomatic mission in Pyongyang and is represented there by the Swedish embassy.
The Australian government has thanked Sweden for its efforts in securing Mr Short's release.