Hamid Karzai's brother quits Afghan poll race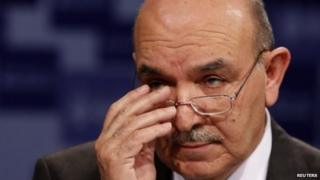 The brother of Afghan President Hamid Karzai has dropped out of the forthcoming election race to endorse fellow candidate Zalmai Rassoul.
Qayum Karzai told a press conference in Kabul that his team was "a key part of this new alliance".
President Karzai, who cannot run for office again, has said he would not publicly support any candidate.
There had been speculation Qayum Karzai would bow out in favour of Mr Rassoul, a key ally of the current president.
Zalmai Rassoul is a former foreign minister and a descendant of Afghanistan's royal family.
"From now on, both teams will fight for victory... and I'm sure with the blessing of God, and the support of the people, we will win," Mr Rassoul is quoted as saying by the Agence France-Presse news agency.
Qayum Karzai, a businessman who correspondents say had shown little interest in politics, was criticised for rarely attending parliament when he was elected for one term.
Eleven candidates will contest the Afghan presidency on 5 April, a race that comes in the year Nato combat forces withdraw from the country.
Security is the major issue, with the Taliban threatening to target the campaign, as is corruption
The last election, in 2009, was dogged by allegations of vote rigging and intimidation.
If there is no clear winner from the first round of voting, there will be a run-off - which means a result may not be known until the summer.