Death sentence for Malaysian couple who murdered maid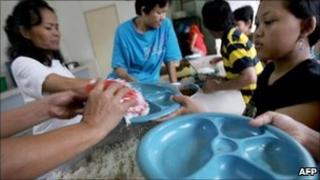 A court in Malaysia has sentenced a couple to death by hanging for the murder of their Indonesian maid.
The judge said the 26-year-old woman had died of starvation after the couple failed to provide her with enough food and medical attention.
The couple, Fong Kong Meng, an electrician and his wife, Teoh Ching Yen, had denied the charges.
The victim, Isti Komariyah, died on arrival at hospital after working for the couple for two and a half years.
Her weight had fallen from 46kg to 26kg at the time of her death in June 2011.
The case was brought to court shortly after Malaysia and Indonesia signed an agreement to improve the condition of Indonesian maids in the country.
It ensured that they were given at least one day off a week and were allowed to keep their own passports.
Indonesia had earlier banned its citizens from domestic work in Malaysia because of allegations of abuse.