Peshawar bomb disposal teams suffer heavy toll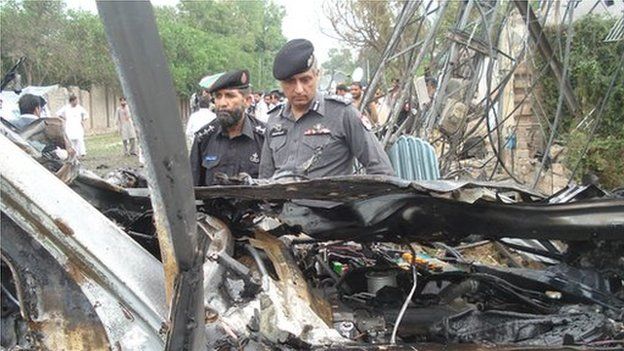 Bomb disposal experts in north-western Pakistan are suffering a heavy death toll as they counter an intense bombing campaign by Islamist militants. M Ilyas Khan reports from Peshawar on the men who lost their lives in the struggle to defuse thousands of bombs planted throughout the region.
Sharif Khan received a phone call from his father late one night last December. It was the usual stuff; how is your mother, how are the kids, why did you stay out late in the evening - the daily concerns of a father who lives away from home.
Early next morning, when Mr Khan was still in bed, he overheard the shocking news on TV.
Four members of the bomb disposal unit (BDU) in Peshawar had been blown up in a bomb attack. Mr Khan's father, Abdul Haq, who headed the Peshawar BDU, was among them.
There was extensive media coverage. Abdul Haq had been one of the top experts in handling improvised explosive devices (IEDs) in Peshawar, and was widely known for his brave and often reckless style.
He was heading for a post-blast investigation of an early morning explosion in the city's dangerous southern suburbs when the IED hit him.
"Death came to him in steps. We could see it, but he couldn't," his son says, his voice choking.
In 2008, three fingers of Mr Haq's left hand were blown off while he was defusing a bomb. Only the booster of the IED burned, recalls one of his colleagues. "Had the main charge detonated, he would have been dead six years ago."
Later, he survived unexpected detonations at close quarters on at least two occasions.
"I must have told him a thousand times to get a transfer from the BDU. My mother also pestered him endlessly. But he didn't listen."
Mr Khan recalls one family argument in which his father said: "If a bomb gets to me one second quicker than I can get to it, I'll be dead. But the bomb can't do it, because it doesn't have the brains."
The bomb that got to him in the end did have brains, so to speak, and a pair of watchful eyes - someone lurking in the shadows detonated a roadside IED using a cell phone just as his jeep was passing by.
There was a state funeral in Peshawar, but none of the senior officers drove up to his native Malakand region, about 100km (62 miles) to the north, for the burial.
Mr Khan says his father's was a "thankless job". It offered a meagre salary, hardly any promotions, no special risk benefits - and no recognition.
"I think he stuck to the BDU because it gave him a feeling of exaltation at preventing potential deaths, and the almost addictive confidence that he could defeat the bombs."
Mr Haq's predecessor, Hukum Khan, was equally addicted to bombs, and just as bold in approaching and disarming them.
His death was also almost equally predictable, says his son, Akram Khan.
"My father had been with the BDU for 30 years, and for all that time my mother had been expecting bad news," he says.
It was a dark day in September 2012. Hukum Khan was planning to go home for an early weekend. He received a bomb call on the way home and was picked up by the BDU squad to get to the scene nearby. His family lives in the Mattani area in Peshawar's southern suburbs, an area with a heavy militant presence.
"We heard the explosion at home," says Akram Khan, who was his eldest son.
"My mother said she didn't like the sound of it. Explosions always made her feel sick. She asked me to call my father. I told her he never answered his phone when he was at a bomb site."
Later in the day, Akram Khan found his father's body at a morgue in Peshawar's Khyber Teaching Hospital.
Shafqat Malik, the assistant inspector-general (AIG) of police who heads the district bomb disposal units across Khyber Pakhtunkhwa (KP) province, says Hukum Khan had been giving the militants a hard time.
"The paramilitary forces had been trying to set up a security post in the area, and the militants were trying to frustrate that by planting bombs there. Hukum Khan disarmed more than 60 of those bombs within a three-month period," he says.
The IED which Hukum Khan went to disarm was actually a trap.
"He walked up to it, and was wiping the dust off its surface when another bomb hidden close by was remotely detonated," says Mr Malik.
An ex-army officer and an expert on explosives and ammunition, Mr Malik runs a rag-tag detail of some 30 technicians province-wide to pick up and disarm explosives in one of the world's largest terror-bombing zones.
There aren't enough bomb suits to go around, and the few robots donated by the UK and the European Union are not an efficient tool in an uneven, rocky area dotted with farmland.
So the main protection for the bomb technicians is no thicker than the clothes they are wearing, and their tools are just a set of pincers, pliers, knives and screwdrivers.
It is the natural bravery of the natives of KP province, and their high level of motivation, that sets them apart from bomb technicians elsewhere in the world, says Mr Malik.
"It's a personality thing," he says. "There are three essential ingredients; knowledge, experience and a measure of madness."
When KP and the adjacent tribal region began to turn into a war zone 10 years ago, the bomb disposal technicians would just walk up to a bomb, pick it up in their bare hands and cut off the wires, he says.
Those were mostly time devices.
The militants then started booby-trapping them. The moment a technician lifted the device, an anti-lift switch placed underneath would go bang.
Seven technicians died during 2008-09. Five more have died since then, mainly after the introduction of remote-detonation technology.
But every time the BDU men have successfully caught up with the innovations. Since 2009, they have defused more than 5,000 IEDs, which must be a record of sorts, says Mr Malik.
Still, the menace persists.
Constable Iftikhar Ali, a member of the BDU Peshawar, has a typically fatalistic attitude towards his job.
"The bomb makers will continue to make bombs, and we will continue to defuse them," he says.
He knows a time-device from a remote-controlled one, and knows where to find and disable the triggers.
A metal detector in hand, he has just finished sweeping a two-acre compound of a religious organisation for bomb threats ahead of a ceremony, and is now checking the peripheral area around.
He has two daughters - eight and six - and a three-year-old son.
A police constable for 10 years, he volunteered for the BDU three years ago, after many bomb technicians had been killed. His wife and mother didn't like his decision.
"Tension often runs high in the house," he confesses.
"They ask me to quit, but I like the job. I tell them, life and death is in the hands of God. A bomb that doesn't have my name on it can't kill me - and the night that is written in the grave can't be spent outside."