Where is Thailand heading after protests?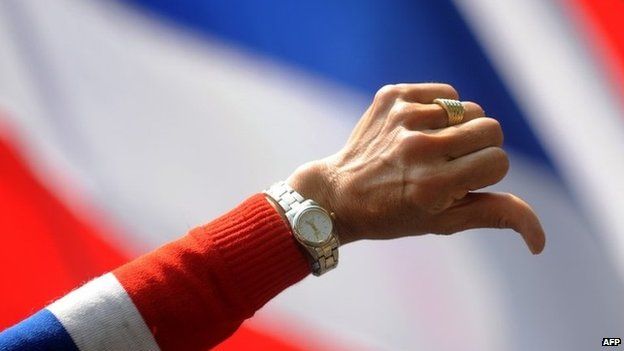 The traffic is back to its familiar gridlocked state along Sukhumvit Road in Bangkok. The stages, speakers, food stalls and other paraphernalia of the six-week shutdown are gone, as are the surly guards who shooed pedestrians away from footbridges that might have offered possibilities to assassins.
Instead a tent city has appeared inside central Bangkok's only green space, Lumpini Park, as the PDRC protest movement has consolidated its various sit-ins into one site. This is not a retreat, says protest leader Suthep Thaugsuban, just a rationalisation.
The well-dressed, middle-class followers with their trademark whistles are much scarcer now. It has the appearance of a fortified camp, the guards carefully checking the bags and identity of everyone entering. They have also been accused, not for the first time, of serious abuses of those suspected of supporting the government. One man narrowly survived six days of torture and being dumped in a river.
Outside the park, the army is suddenly very visible, uniformed soldiers sit behind camouflaged sandbag bunkers. They were deployed, said army commander Gen Prayuth Chanocha, to protect the protesters after a series of attacks on their camps.
But this proliferation of military posts is unnerving for a country with Thailand's history of coups, particularly after Gen Prayuth was unable to rule one out when asked recently. The only reassurance he offered, in a string of dire warnings about the country, is to put pink curtains around the bunkers to make them less intimidating.
So where is Thailand heading, after four months of sometimes violent protest and backlash? It is impossible to be sure.
Suthep Thaugsuban and his backers among the military top brass, the Bangkok business community and senior palace advisers have not succeeded either in unseating Prime Minister Yingluck Shinawatra, or in provoking enough violence to justify military intervention.
Ms Yingluck and her self-exiled brother Thaksin have not succeeded in completing the election they called last month, nor can they dislodge the PDRC from central Bangkok.
There have been occasional talks between the two sides, sometimes involving Mr Thaksin, who lives in Dubai but travels frequently in Asia, and envoys from the PDRC backers, and more recently between four unknown representatives of the rival factions in Bangkok. Little is known about the outcomes of these encounters, but compromise will be extremely difficult to reach.
Mr Thaksin wants the result of the election, which his party is sure to win, to be honoured; but also wants an amnesty for his 2008 conviction on abuse of power charges, and for more than $1bn (£598m) of his assets to be unfrozen. The PDRC wants the political system to be altered in such a way that the Shinawatra family are permanently purged from politics.
There is one other crucial element in this bitter conflict, the issue of the royal succession. King Bhumibol Adulyadej, who during his 68 years on the throne has been a semi-divine linchpin of Thailand's hierarchical political order, is elderly and very frail. The health of his wife, Queen Sirikit, who has also played a powerful role, is rarely mentioned, but believed to be poor. Crown Prince Vajiralongkorn is the officially designated heir to the throne, but that has not stopped endless talk of other scenarios, although Thailand's severe lese-majeste law prevents this being discussed openly anywhere inside the country. It is impossible to understand the current conflict without considering this factor, and the acute anxiety royalists feel over Mr Thaksin's influence and ambition.
In the absence of any progress, each side is trying to weaken and intimidate the other. Both sides are firing off lawsuits so often it is hard to keep up with them. Some of these, though, could be decisive.
The charge against Ms Yingluck by the National Anti-Corruption Commission is moving steadily to a conclusion. She has put off appearing before the commission, but it is very likely to ask the senate to impeach her. If the upper house, half of which is being re-elected on 30 March, found against her, she would be barred from office.
Her party could then choose another prime minister. But the NACC is also considering corruption charges against more than 200 of her MPs.
Nor can she complete the election held last month, because the Election Commission is dragging its feet over restaging contests where voting was disrupted by the PDRC. So she cannot form a new government, and her powers in her current caretaker role are limited.
She is unable to work from her main office, which is blockaded by protesters, and has had to move between secret locations to avoid them, recently spending much of her time outside Bangkok.
The card her side is playing is the threat of a mass uprising if she is forced out.
Until last month the red-shirt mass movement which backs the prime minister's party had kept a low profile to avoid confrontations with the PDRC, which might have prompted intervention by the unsympathetic military.
But in the wake of clashes last month, and a court ruling which barred the government from using force against the protesters, armed groups supporting the red shirts scaled up their attacks on the PDRC. Six people, including four children, were killed.
The main red-shirt movement has also been organising big rallies in their strongholds of the north and north-east, in a show of force intended to deter the military and the courts from moving against the prime minister.
Some red-shirt groups have started talking openly about creating a breakaway state in northern Thailand. That brought a swift reaction from Gen Prayuth, who is threatening to prosecute anyone discussing secession.
The prospect of Thailand being split in two is more an expression of red-shirt frustration over events in Bangkok than a real prospect, but the possibility of further armed clashes is more serious.
A former military officer now advising the red-shirts on armed operations told the BBC they were planning to recruit 200,000 guards, all of them armed, who would be prepared to march on Bangkok if Ms Yingluck were forced from office, either by the army or by the courts or independent agencies like the NACC.
Whether it is this scenario or other factors which have given Gen Prayuth pause is hard to guess. With so many troops positioned in central Bangkok, a coup would be logistically straightforward. But its consequences could be very messy. Not all the rank-and-file are as loyal to the old order as the top brass.
Some of Thailand's biggest companies have staked large amounts of money on the PDRC succeeding in its bid to oust the Shinawatra clan. They, and every other party that has backed a protest movement that turned into an insurrection, fear retribution from the pro-Thaksin camp if they fail.
Many of their supporters fear the re-ordering of Thai politics and society that would follow a victory by the red-shirt side. With so much at stake, a deal between them is a remote prospect; yet without one, the conflict will drag on, and will surely escalate, with incalculable costs to the country.