Philippines lodges protest over China ship blockade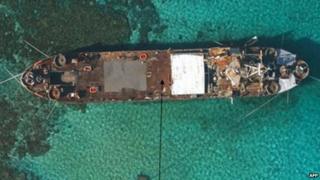 The Philippines has lodged a protest with China, accusing its coastguard of preventing two civilian vessels reaching sailors on a disputed shoal.
The vessels were in the South China Sea on Sunday to deliver supplies to a military ship grounded since 1999, Philippine officials say.
But Beijing's foreign ministry said China blocked the ships because Manila was attempting to build on the shoal.
The incident is the latest in the rumbling South China Sea row.
China claims a U-shaped swathe of the sea - creating multiple overlaps with areas claimed by the Philippines, Vietnam, Brunei, Malaysia and Taiwan.
The latest row involves the Second Thomas Shoal, known as Ayungin in Manila and Ren'ai Reef in Beijing.
Philippine troops are stationed on a beached, rusting military ship that analysts say has become a symbol of the country marking its territory.
The Philippine foreign ministry summoned China's envoy in Manila on Tuesday to lodge the protest.
"Ayungin Shoal is part of the continental shelf of the Philippines and therefore the Philippines is entitled to exercise sovereignty rights and jurisdiction in the area without the permission of other states," the Philippine foreign ministry said in a statement.
On Sunday, Chinese foreign ministry spokesman Qin Gang told a daily media briefing that the Philippines had "again attempted to start construction" on the Ren'ai Reef, adding that the move "infringed China's territory sovereignty".
Beijing said the Philippine ships were loaded with construction supplies.
The Philippines and China have been embroiled in increasingly serious stand-offs in disputed areas of the South China Sea in recent months.
Manila filed a complaint against Beijing last month after it said Chinese coastguards fired a water cannon at Filipino fishing boats near the Scarborough Shoal.
This was where the two nations had a tense stand-off in 2012, leading to protests and angry rhetoric on both sides.
The Philippines challenged China's territorial claims at a UN tribunal last year.