Tamil activist detained in Sri Lanka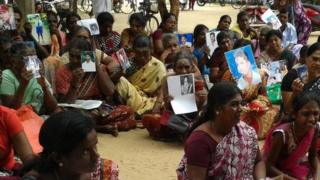 The police in Sri Lanka have arrested a prominent Tamil activist who has been campaigning against political disappearances.
They say the woman, Jeyakumari Balendran, was arrested with her young daughter on suspicion of harbouring a criminal.
Her son disappeared after the defeat of the separatist Tamil Tigers in 2009.
She was a leader of the demonstration that greeted the British Prime Minister, David Cameron, last year.
Jeyakumari Balendran's teenage son was conscripted by the Tamil Tigers towards the end of the war and was reported to have surrendered to the Sri Lankan army. He then disappeared.
She and her 13-year-old daughter have been prominent in campaigns to establish the whereabouts of missing people.
In November they were in the forefront of a crowd of weeping women, who brandished photographs of their missing relatives at David Cameron's car when he visited northern Sri Lanka.
Mrs Balendran has been accused of harbouring a suspected criminal who shot and wounded a policeman on Thursday.
About 150 troops and police are involved in an operation to track down the fugitive, according to the police.
They say Mrs Balendran's daughter is also being held until someone can be found to look after her with her mother's permission.
Civil society campaigners have expressed concern for the safety of both mother and daughter.
The police said they were taken to the town of Vavuniya for a medical examination and from there to Kilinochchi, near their home, where Mrs Balendran would appear before a magistrate.