Pakistan sexual assault teen dies after self-immolation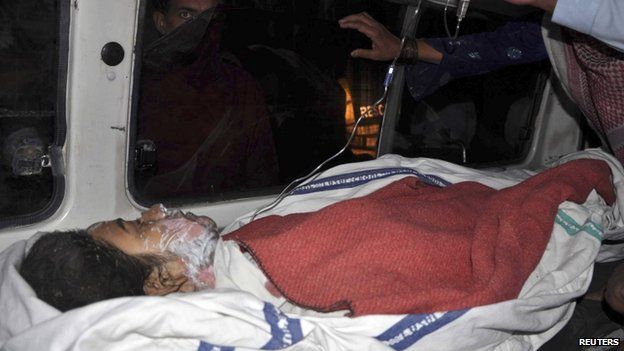 A Pakistani teenager has died a day after setting herself on fire when police dropped charges against those accused of attempting to rape her.
Officials said 18-year-old Amina Bibi self-immolated outside a police station in the district of Muzaffargarh.
She had accused officers of failing to investigate properly claims that she was sexually assaulted by several men on the way to college in January.
Correspondents say rape cases are rarely prosecuted in Pakistan.
Women who complain are often stigmatised, but it is rare for alleged sexual abuse victims to take such desperate measures, says the BBC's World Service's South Asia editor Anbarasan Ethirajan.
The incident in the has caused outrage in Pakistan, particularly on social media, our correspondent adds.
Ms Bibi had complained that she was attacked by several men. The main suspect was initially arrested, and freed on bail, officials say. The other men allegedly involved were never identified.
But police dropped charges against the main accused on Thursday, saying there was not enough evidence.
When she heard this, Ms Bibi went to the police station in the Muzaffargarh district in southern Punjab to lodge a protest.
Later she doused her clothes in petrol and set herself on fire outside the police station.
"She was already depressed after going through the trauma, but after the release of the accused, she lost all hope of getting justice and set herself on fire," her brother Ghulam Shabir told Reuters.
He said his sister had been kidnapped in January and the attackers had tried to rape her.
Pakistan's independent Human Rights Commission has condemned the incident.
In a statement the organisation said it hoped the government would "immediately launch practical measures to ensure that no other rape victim has to set herself ablaze to get noticed".
The Chief Justice of Pakistan, Tassaduq Hussain Jillani, has taken up the case, and has summoned the local police chief, according to reports.
The Chief Minister of Punjab, Shahbaz Sharif, has ordered an inquiry.