North Korea abductee: Japan parents meet grand-daughter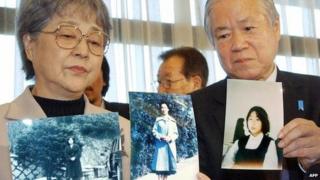 The parents of a Japanese girl abducted by North Korea have described a meeting with her daughter as "miraculous".
Megumi Yokota was kidnapped by North Korean agents on her way home from school in 1977, when she was 13.
North Korea says she married a South Korean abductee and had a daughter before killing herself in 1994.
Her parents were allowed to meet their grandchild for the first time in Mongolia last week, Japan's foreign ministry announced over the weekend.
Megumi Yokota was one of a number of Japanese nationals abducted by Pyongyang in the 1970s and 80s to train North Korean spies.
North Korea has returned five such abductees and says the others have died, but Japan says it has failed to provide adequate proof of their deaths.
'Dream come true'
The case of Megumi Yokota, as the youngest of the abductees, has huge resonance in Japan.
She was snatched by agents in the Japanese city of Niigata and taken to North Korea by boat.
Her parents, Shigeru and Sakie Yokota, have campaigned for years to find out what happened to her.
North Korea returned what it said were her remains in 2004 but DNA tests subsequently disputed that claim.
Japan's foreign ministry announced on Sunday that Mr and Mrs Yokota spent several days last week with their grand-daughter in the Mongolian capital, Ulan Batur.
The couple said of their meeting with 26-year-old Kim Eun-gyong: "It was a miraculous event and it provided great pleasure."
"We had hoped to meet her as a family," Sakie Yokota told reporters. "What we have dreamt about for such a long time has come true."
The couple did not ask about the fate of their daughter, AFP news agency reported.
"We did not want to make the meeting with her [Kim Eun-gyong] anything that involves political matters," Mrs Yokota said. "She has grown up in that country. We weren't sure how much of the truth she could tell us."
However, Mrs Yokota added that she continued to hold onto the belief that her daughter was alive.
In a statement, the couple added that they hoped the meeting would "pave the way for rescuing all the abductees," Kyodo news agency said.
The abduction issue remains a key sticking point in the relationship between Japan and North Korea, who do not have diplomatic ties.