Sri Lankans held on terror law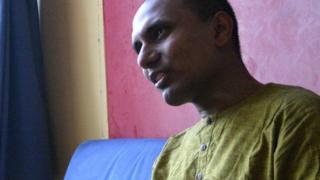 The authorities in Sri Lanka have detained two prominent human rights activists under anti-terror laws.
Ruki Fernando and Father Praveen Mahesan were arrested in the northern town of Kilinochchi in the former war zone late on Sunday. They have not been charged.
Other rights campaigners say they are very concerned for their safety.
They could face up to 20 years in prison on terror charges and could be held for 18 months without trial.
The activists are being held - the authorities say - on suspicion of inciting racial or religious hatred or disharmony, or violence between ethnic groups.
The possible future charges come under two different acts. One of these, the Prevention of Terrorism Act, provides for a year and a half's detention without trial and stipulates a penalty of between five and 20 years in prison.
Colleagues of the two men say they are not terrorists but dogged workers for reconciliation.
Mr Fernando and Father Praveen were arrested in northern Sri Lanka but are now reported to be in the capital, where they are to be kept at the anti-terror headquarters.
A police spokesman said they could have access to lawyers and their next-of-kin.
Both men had been working with families of disappeared people.
When they were detained they had been documenting the case of Jeyakumari Balendran - a woman who lost her husband and two sons in the war and whose third son has disappeared.
She had campaigned for the relatives of missing people but is now in detention on suspicion of harbouring a criminal, according to the authorities.
The United States Government expressed concerned about the detention of several well-known Sri Lankan human rights defenders and activists over the past week.
An embassy statement urged the authorities to ensure that all those detained were given transparent and due legal process.