Who are the pilots of flight MH370?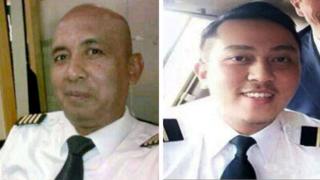 Malaysian police have opened an investigation into the pilots of flight MH370, as the search for the missing plane continues in the southern Indian Ocean.
The remaining crew and passengers of the Malaysia Airlines flight, which vanished on 8 March, are also being investigated.
But Captain Zaharie Ahmad Shah and his co-pilot Fariq Abdul Hamid have become a particular focus in light of a number of revelations.
Malaysian authorities confirmed that the plane's tracking devices were switched off in the cockpit.
Officials believe the communications systems were deliberately disabled, and the aircraft knowingly steered off course.
But authorities also noted that the pilots had not specifically requested to be placed on the same flight.
Police have searched the homes of the men, who both live in the Shah Alam neighbourhood in the Malaysian capital, Kuala Lumpur. Officials said they were analysing the pilots' psychological profiles, and looking into their family life and connections.
Captain Zaharie Ahmad Shah
Mr Zaharie, 53, is a veteran pilot who joined Malaysia Airlines in 1981 and logged 18,000 hours of flying experience.
The father of three, described as a passionate cook and keen fisherman, lived with his wife in an upmarket gated community in Kuala Lumpur.
Several reports have, however, suggested that his wife and children moved out of the family home the day before the flight, after his wife told him she was leaving him.
Mr Zaharie's wife has not spoken publicly since the disappearance of flight MH370. A fellow pilot and associate of Mr Zaharie told the New Zealand Herald that he had been "terribly upset" by his relationship troubles.
Speaking to the New Straits Times, Mr Zaharie's 26-year-old son Ahmad Seth said he had ignored "all of the speculation", adding: "I know my father better."
The Zaharie family were among more than 100 people interviewed as part of the investigation into the backgrounds of all 239 people on board but authorities said the interviews produced no "information of significance".
Among fellow aviators, Mr Zaharie was renowned for his professionalism and bonhomie, and was regarded by younger pilots as something of a mentor.
"A very nice guy, passionate about aviation, and among the community of pilots, one of the most respected," a colleague told the New York Times.
A self-confessed "aviation geek", Mr Zaharie built a flight simulator in his home mirroring the set-up of the Boeing 777-200 he was piloting.
This makeshift cockpit has been a focal point of the investigation.
Investigators confirmed they had confiscated the simulator during their house search, and that it was being examined at police headquarters.
But flying experts have pointed out that it is not unusual for a pilot to own such a device.
Mr Zaharie "was well known to many in the flight simulation community because he had developed an online presence in which he dedicated many hours of his time to promoting the enjoyment of flying generally, and flight simulation specifically," said Robert Randazzo, the president of flight simulation software developer PMDG.
Mr Zaharie often posted online tutorial videos relating to the simulator, addressing topics like: "How to tune aircon to save electricity."
A close friend of the captain insisted it was unfair to implicate the pilot in any wrongdoing, saying that he himself had tried out the flight simulator.
"It's a reflection of his love for people because he wants to share the joy of flying with his friends," Peter Chong said in an interview with CNN.
Another point of contention has been the revelation that Mr Zaharie is an in-law of Malaysian opposition leader Anwar Ibrahim, who was given a jail sentence just hours before the plane disappeared.
Mr Anwar initially denied knowing the captain, but later admitted that the pilot was in fact related to his son's in-laws.
He acknowledged meeting him on "several occasions", adding that Mr Zaharie was a "decent man" and "close friend" of the opposition party.
This revelation led to speculation in the British press that the captain was a "political fanatic" who had hijacked the plane in revenge for Mr Anwar's sentencing.
Mr Anwar rejected the report as a "smear campaign" against the pilot and the opposition party.
Co-pilot Fariq Abdul Hamid
Mr Fariq joined Malaysia Airlines in 2007 at the age of 20, but only recently started co-piloting the Boeing 777.
The son of a senior civil servant in Selangor state, he studied aviation at a flight school on the Malaysian resort island of Langkawi.
He had gained about 2,700 hours of flight experience when MH370 went missing but authorities have revealed that he was on his first flight aboard a Boeing 777 as a fully-approved pilot.
Malaysia Airlines said Mr Hamid was on only his sixth flight in the cockpit of a 777 and flight MH370 was his first without a training pilot overseeing him.
But aviation experts have dismissed the significance of this, saying his relative inexperience would not have been a risk - especially alongside as experienced a pilot as Mr Zaharie.
Authorities believe the co-pilot spoke the last words to Malaysian ground controllers before the plane vanished.
"All right, good night," he is reported to have said 12 minutes after the aircraft's first communication system was switched off, and two minutes before the second and final transponder was shut down.
Friends have described Mr Hamid as religious and serious about his career. He was reportedly due to soon marry a fellow pilot from another airline.
But doubt was cast on his character earlier this month after an Australian TV channel broadcast an interview with a young South African woman claiming Mr Fariq and a fellow pilot had invited her and a friend into the cockpit during a flight in 2011.
Mr Hamid smoked and flirted, Jonti Roos said, calling the experience "a little bit sleazy".
Her allegations were backed up by photographs showing the women posing in the cockpit.
Malaysia Airlines expressed shock at the report and said it would investigate Mr Hamid for breaching safety rules.
However, an imam who knew the co-pilot well stressed the 27-year-old was a "good boy, a good Muslim, humble and quiet".
"I don't think he is a playboy, but I don't know about his personal life," said Ahmad Sarafi Ali Asrah, the head of the mosque in Mr Hamid's neighbourhood in Kuala Lumpur.