Bangladesh opposition's Khaleda Zia faces corruption trial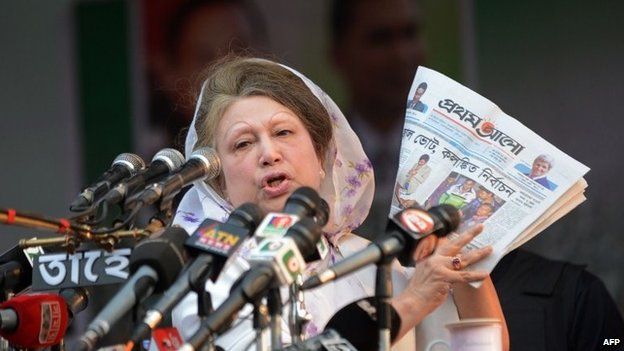 Former Bangladesh Prime Minister Khaleda Zia and other leading opposition members are to go on trial next month on corruption charges.
Ms Zia and her associates deny embezzling hundreds of thousands of dollars in charitable funds.
The court in Dhaka set 21 April as the start of the trial after rejecting her lawyers' pleas for more time.
The trial is likely to stoke tension in Bangladesh after Ms Zia's BNP boycotted disputed elections in January.
The governing Awami League, led by PM Sheikh Hasina, won the vote, which Ms Zia called a "scandalous farce".
She wanted a neutral government to oversee the poll.
Prosecutors say she and three co-accused took 31.5m taka (about $400,000) from a charitable trust named after former president Ziaur Rahman, her late husband who was assassinated in 1981, the AFP news agency reports.
Ms Zia and four others, including her son Tarique Rahman, are also accused of embezzling 21.5m taka - money which prosecutors say should have gone to an orphanage set up in memory of her late husband.
Ms Zia and her co-defendants say the charges against them are politically motivated.
Sheikh Hasina and Khaleda Zia - who are bitter political enemies - have alternated from government to opposition for most of the past two decades.