My Day: Ballet director Li Cunxin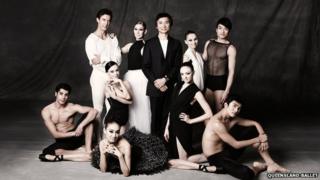 Li Cunxin is the artistic director of the Queensland Ballet in Australia. He trained as a ballet dancer in China before the country opened up to the outside world and defected to the United States after getting the opportunity for a summer scholarship in Texas.
In the morning when I wake up I take the puppy out to get some fresh air and I go for a swim for half an hour.
Then I'll have breakfast. I usually cook breakfast for my daughter and read the Financial Review. After that I take my daughter to school, then come straight to work.
We have a new ballet: Coppélia, so we have production meetings with the heads of different departments: marketing, wardrobe, costuming making, head of production, the CEO, me, choreographers etc. to see if there are any problems.
My days now are very far removed from my early childhood in China. Then I would be woken up early in the morning way before the sun was up.
We had to go to the fields where the harvest had been done. We would try to churn the earth to see if there were any potatoes or sweet potatoes overlooked so that we would have something to eat for breakfast.
Sometimes we would come back with a shovel and an empty basket feeling so hungry, hoping my mother would have something but knowing there wasn't enough food.
School for us was about political brainwashing and Mao's political propaganda. We learned about Communism. Academics - history, writing, mathematics - were secondary. We were constantly reading Mao's words, Marx, Engels, Lenin, Stalin's words. They were our "golden bible".
'Hating ballet'
Then when I was 10 years old, I was discovered out of the blue by the people from the Beijing Dance Academy to study ballet, which I knew nothing about. Ballet was so far removed from our daily struggles.
They put us through this really vigorous, sometimes cruel audition process where they tested your flexibility, measured your proportions and tested your intelligence to see if you were a fast learner.
They checked back through three generations of your family to make sure you fell into the right class category. In Mao's political madness, he won power by relying on three classes: peasants, factory workers, the Red Army soldiers. If you fell into these classes, you could enjoy better privileges than the classes considered enemies.
Our days were brutal. We started at 05:30 and went to sleep at 21:00. We trained six days a week and the training was absolutely mad. It required tremendous tenacity and discipline.
The incredible thing was I wasn't a good student. I was terrible at the beginning. I hated ballet with a passion. The whole time I was wondering what I was doing when my family was starving. I didn't see how I could possibly help my family doing ballet.
Eventually, when I was on the verge of being sent back home for being so bad, this one amazing teacher, Teacher Xiao, came into my life.
He was so passionate about ballet and he imparted that passion onto me. That was the turning point from hating ballet, being lazy to really becoming a standout at the end of seven years of training.
Teacher Xiao and Ben Stevenson, the artistic director of the Houston Ballet who became my mentor when I went to America, these two were most influential in my becoming an artist.
Today as artistic director of the Queensland ballet I still reflect on the important lessons they taught me.
Freedom or family?
Ben Stevenson was in China 1979, the year I was about to graduate from the Beijing Dance Academy. He was there with the first cultural delegations sent to China in the opening up that followed President Nixon's visit. He taught two master classes at my academy, and offered me a scholarship to study at the Houston Ballet summer school.
It was fantastic. It was such an eye opener. Even simply listening to classical music on the radio was such a treat because there wasn't much classical music when I grew up in China.
Everything in America, the food, the clothes, especially the freedom it was almost like I was waking up from a long sleep with utter disbelief.
I fell in love with this beautiful girl who was also a student at the Houston Ballet Academy: Elizabeth. I was torn between China and her and my new-found freedom in the West.
It was the most difficult period of time in my life. I knew by leaving her I would never be able to re-connect with her because my chance of getting out of China again at that time was virtually impossible.
So I had to choose. For me, obviously, I saw my future in the West. So I stayed in America and that choice caused an enormous political storm.
After my defection I was completely cut off from my family and that was the most excruciating pain. It was like a long nightmare.
Seven years later, when I was dancing in Washington DC with the Houston Ballet, Barbara Bush, who was on the board of the ballet, invited me and Ben Stevenson to the White House.
She was horrified that I hadn't been allowed to go back to China or to communicate with my family. So she took the matter upon herself and she wanted to help.
On the opening night of our Swan Lake, I didn't realise that they had invited the Chinese cultural attaché to see me dance. He came up to me and said he wanted to invite me to the Chinese embassy for coffee the next morning because Vice-President Bush had intervened on my behalf.
Of course I was terrified of going. But they were very nice and they said they wanted to help me. They said China had changed and they wanted to move forward.
'Dancing a dream'
Through that meeting, eventually my parents got permission to visit America. They came to see me perform in Houston and I'll never forget it. It was the most special and satisfying moment of my life.
They had never had the money to go to Beijing when I was there so they had never seen me dance. They had no idea what kind of success I had achieved in the West. As far as they knew I was probably dead.
They arrived in America escorted by a police car through heavy traffic, rushed to the theater where we delayed the performance by over 20 minutes. When they walked in, the whole audience applauded for them.
I felt that night I was dancing a dream. Dancing for my parents I was constantly pinching myself to make sure I could feel the pain and that it was real. It was very emotional for both my parents and me.
So back to today, by 10:00 I am still in meetings. We have regular meetings of our medical team and our senior artistic team. Then we have rehearsals with principal dancers - we are rehearsing for a ballet we are performing right now called Dance Dialogues.
By around 12:00 I try to catch up on emails or watch other rehearsals.
I see my role as artistic director as providing guidance and vision. It's very much a mentoring role. For my dancers, I want to find ways to motivate them to see how far they can go.
By 1:00 or 2:00 I have a lunch break. And then from 3:00-4:00 we have technical rehearsals for the entire Dance Dialogues programme.
At this stage we are doing rehearsals in full costume with all of the ballets performed in sequence to see how the order pans out and how to build the emotion through the evening.
Food culture
So that is the end of my workday and then I'll go home. I often cook dinner; I enjoy cooking for my family or for friends. I think that love of cooking and food is partly a Chinese tradition and partly because my mother was such a brilliant cook.
Her love for food made a deep impression on all of my brothers. Two have started restaurants in China and one has become a chef.
I also like to read and occasionally if my wife Mary says there is something nice on TV like Downton Abbey, I might watch it with her.
Sometimes it's beautiful to do nothing after dinner and to put on a nice piece of music and just sit there with a glass of red wine.
Before I go to sleep I have a habit which drives my wife crazy, which to check my phone for emails from colleagues overseas, whether it's directors or choreographers, sharing information and planning for future programs.
And then I normally go into a short meditation to clear my mind and relax before I finally go to sleep around 11:00 or 12 00.
Li Cunxin was speaking to Katie Beck