Nepal PM Sushil Koirala wins praise for shunning perks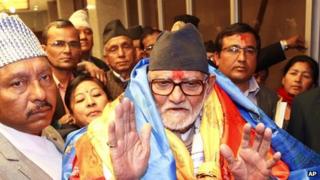 Nepal's 75-year-old prime minister Sushil Koirala might qualify as one of the world's poorest heads of government.
His only declared assets are three mobile phones.
If you go by property details published on a government website, he has no other assets to his name.
And he shows no penchant for the perks associated with his job.
Last month, he gave back $650 he had received as an allowance for going to Myanmar (Burma) to take part in a regional summit meeting.
"The prime minister handed back the allowance to the government as it was not spent," explains his press aide Prakash Adhikari.
Corrupt leaders
Mr Koirala's example, according to many analysts, will be welcomed by Nepalis.
The public perception is of rampant corruption, particularly by those in public office.
Before he moved to the sprawling official residence of Nepal's prime ministers, Mr Koirala used to live in a simple rented house in Kathmandu.
Mr Koirala, who has been involved in politics from a young age, has had a clean image from the start.
Even in his hometown of Nepalgunj in western Nepal, Mr Koirala does not have any land, unusual in a country where people normally associated politicians with wealth.
He stays at the residence of his brother whenever he visits the city.
"He is a man of very simple tastes," says journalist Netra KC, who is based in Nepalgunj.
"In fact, he depended upon the largesse of his party workers and the government even when he had to go to the United States for medical treatment."
Mr Koirala, however, is not the only spartan prime minister Nepal has had recently.
His former party boss Krishna Prasad Bhattarai famously vacated the prime minister's quarters in 1991 carrying only an old metal case, an umbrella and a pot.
While many welcome the austere lifestyle of Mr Koirala as exemplary, the fact remains he is an exception rather than a rule.
For instance, some other members of the government are believed to be millionaires. Most of the ministers in his cabinet are well off.
Although most ministers have listed inherited property as their source of wealth, many ordinary people are not convinced by this.
Even in Mr Koirala's case, there are some who question how he is able to live on so little, and suspect that he must have some hidden assets.
But many people believe that he is genuinely a man of simple tastes, and that his lifestyle reflects that fact.