US brings together Japan and S Korea leaders after rift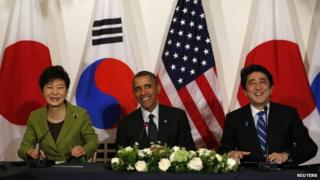 The Japanese and South Korean leaders have held their first official meeting following a rift over Japan's stance on its wartime aggression in Asia.
US President Barack Obama brought Japanese Prime Minister Shinzo Abe and President Park Geun-hye together at the nuclear summit in The Hague.
The United States has been trying to ease tension between its two allies.
Mr Obama pledged his "unwavering commitment" to them in the face of North Korea's nuclear programme.
Shortly after the meeting, North Korea test-fired what the South Korean government said appeared to be two mid-range ballistic missiles that flew about 650km (403 miles) off the North's eastern coast.
Such a launch would violate UN resolutions and be a significant step up from the shorter-range rocket launches the North has staged in recent weeks, apparently in protest at ongoing joint US-South Korean military drills.
'Co-operation'
"Close co-ordination between our three countries has succeeded in changing the game with North Korea," Mr Obama said.
"Our trilateral co-operation has sent a strong signal to Pyongyang that its provocations and threats will be met with a unified response."
President Park had refused to meet Mr Abe over allegations that he is trying to whitewash Japanese war crimes.
"We consider this meeting the first step in future co-operation between Japan and South Korea," said Mr Abe after arriving in The Hague.
He said he would also like to hold a first meeting with the Chinese leader, Xi Jinping.
Japan and China are locked in a more serious confrontation in the East China Sea, where China has been challenging Japanese sovereignty and control over the uninhabited Senkaku or Diaoyu Islands.
Mr Abe's government had infuriated South Koreans and others by announcing a review of Japan's historic apology for its sexual enslavement of Asian women during World War Two.
He has since backtracked, saying that the 1993 Kono statement, which acknowledged the role of the imperial army in the forced recruitment of Asian women, would stand.
Diplomats say the decision followed pressure from the US, which also criticised Mr Abe's visit late last year to the Yasukuni war shrine, which is seen as a symbol of Japanese militarism.
The US has been frustrated by the wrangling between its two north-east Asian allies at a time of growing fears about stability in North Korea, and the missile and potential nuclear threat posed by its armed forces.
South Korea and China have accused Mr Abe of stirring up nationalist sentiment in Japan at a time of rising tension in northeast Asia.
Mr Abe has said he wants to restore Japanese pride and self-confidence.
He has also announced plans to strengthen Japan's defence posture against the rising power of China.