Philippines signs landmark deal to end Muslim uprising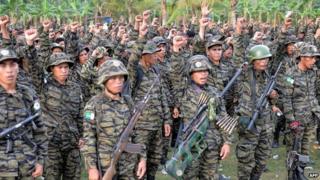 The Moro Islamic Liberation Front rebel group in the Philippines has signed a peace deal with the government that brings an end to one of Asia's longest and deadliest conflicts.
President Benigno Aquino and rebel leaders attended the signing ceremony at the presidential palace in Manila.
Thousands of people have been killed over four decades of separatist fighting in the south of the country.
Talks on the deal began in 2001 and a ceasefire has been in place since 1997.
The Philippines has faced separatist movements for decades in Mindanao, where the Moro Islamic Liberation Front (MILF) is based, and in Jolo, home to the radical Islamist Abu Sayyaf group, which is reportedly linked to al-Qaeda.
Communist rebels have also waged a guerrilla conflict over parts of the country from 1969.
Correspondents say Thursday's deal paves the way for mostly Muslim areas of Mindanao to have more autonomy, but it will not end all violence as other groups have vowed to keep fighting for full independence.
"In signing this agreement, the two sides have looked not to the problems of the past, but to the promise of the future,'' Malaysian Prime Minister Najib Razak - whose country brokered the peace talks - said at Thursday's ceremony.
"After so many years of conflict, and so many lives lost, it is a momentous act of courage."
It is estimated that more than 120,000 people have died in separatist violence since the 1970s in Mindanao, the main southern Philippine island.
The area is home to most of the country's five million Muslims, but Christians remain the overall majority.