UN Security Council condemns North Korea missile launch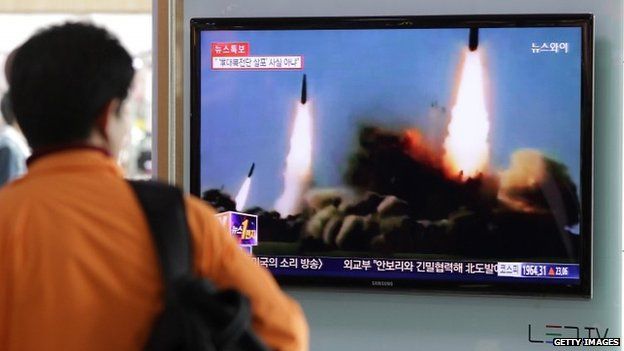 The UN Security Council has condemned North Korea's launch of two ballistic missiles and said it was considering an "appropriate response".
The Council's president, Luxembourg UN Ambassador Sylvie Lucas, described it as a violation of Security Council resolutions.
North Korea test-fired two medium-range Nodong missiles over the sea on Wednesday.
It was Pyongyang's first launch of such missiles since 2009.
Ballistic missile launches by Pyongyang are banned by the United Nations.
The Security Council held a closed debate on Thursday that included a report from the deputy secretary general for political affairs, Jeffrey Feltman, diplomats said.
The condemnation was not a formal statement but Ms Lucas said members had requested she read out the remarks as agreed by all participants.
She said members had agreed "to consult on an appropriate response" and said that this response "should be given quickly".
The South Korean defence ministry said the missiles had been fired from the Suckon region north of Pyongyang and flew for about 650km (400 miles) before falling into the sea off the east coast of the Korean Peninsula.
The ministry described it as a "grave provocation".
The US State Department described the launch as "a troubling and provocative escalation".
In recent weeks, North Korea has launched multiple short-range missiles - actions which have coincided with annual US-South Korea military exercises.
North Korean ballistic missile launches are banned under UN Security Council resolutions adopted in response to nuclear tests by Pyongyang in 2006 and 2009 and subsequent rocket firings.
The Security Council expanded its existing sanctions after another nuclear test in February 2013.
The council has previously imposed a series of sanctions on Pyongyang targeting its missile and nuclear programmes.
Related Internet Links
The BBC is not responsible for the content of external sites.