North and South Korea exchange fire across western sea border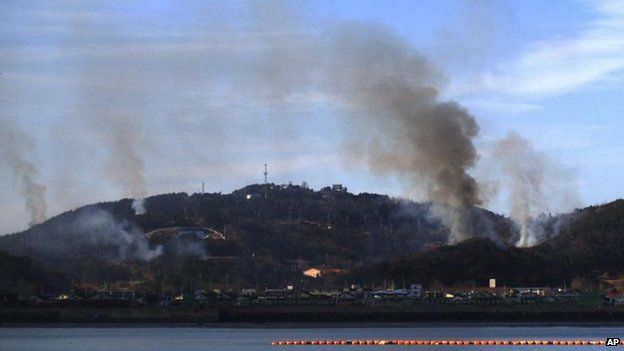 North and South Korea have exchanged fire into the sea across the disputed western sea border, South Korea says.
North Korea announced early on Monday that it would hold live-fire drills in seven parts of the border area.
South Korea says it returned fire after North Korean shells landed in its territorial waters.
The area has been a flashpoint between the two Koreas. The UN drew the western border after the Korean War, but North Korea has never recognised it.
In late 2010, four South Koreans were killed on a border island by North Korean artillery fire. Border fire was also briefly exchanged in August 2011.
The live-fire exercises were announced by North Korea in a faxed message from its military to the South's navy.
South Korea warned of immediate retaliation if any shells crossed the border.
"Some of [North Korea's] shells landed south of the border during the drill. So our military fired back north of the border in line with ordinary protocol," a defence ministry statement said.
South Korea said the two sides exchanged hundreds of shells.
"The North fired some 500 shots... and some 100 of them landed in waters south of the border," said Defence Ministry spokesman Kim Min-seok.
The South fired more than 300 rounds in return, he said.
Residents of a border island, Baengnyeong, were evacuated into shelters during the three-hour incident.
In November 2010, North Korea fired shells at the border island of Yeonpyeong, killing two marines and two civilians.
It said it was responding to South Korean military exercises in the area.
Earlier that year, a South Korean warship sank near Baengnyeong island with the loss of 46 lives.
Seoul says Pyongyang torpedoed the vessel but North Korea denies any role in the incident.
China - North Korea's biggest trading partner - called for calm and restraint after the exchange of fire.
It came days after North Korea test-fired two medium-range Nodong missiles over the sea, its first such launch since 2009.
Late last week, the UN Security Council condemned the launch and said it was considering an "appropriate response".
That launch followed a series of short-range missile tests, seen as a response to the current US-South Korea annual military exercises.
Over the weekend, North Korea also threatened to conduct a "new form" of nuclear test.
It has conducted three nuclear tests to date, the most recent in February 2013.
South Korea's Unification Ministry said on Monday that there was no sign a North Korean nuclear test was imminent.
Related Internet Links
The BBC is not responsible for the content of external sites.