Kabul suicide blast: Police killed at interior ministry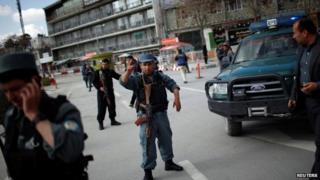 A suicide bomber has killed at least six police officers outside the interior ministry in Afghanistan's capital, Kabul, officials say.
A ministry spokesman told the BBC the attacker had tried to get inside the building wearing a military uniform.
Taliban militants claimed responsibility for the deadly blast.
There have been frequent attacks in Afghanistan in recent days in the run-up to Saturday's presidential elections.
The interior ministry spokesman said the suicide bomber blew himself up while trying to enter the ministry's human resources department.
A number of people were injured.
Police and special forces sealed off the area, evacuating ministry employees.
It is not clear how the attacker managed to go through many checkpoints in the heavily protected area in the heart of Kabul, our correspondent says.
The attacker was reportedly brought in a black tented car, and the search is now under way for the vehicle.
In a separate development, suspected Taliban gunmen in northern Afghanistan reportedly killed nine people, including a candidate running for one of the country's provincial councils.
The attack came just hours after Taliban militants repeated a warning to Afghans to stay away from the vote.
The militants describe the election as a sham backed by the West and have threatened to disrupt it.