Japan's Rakuten to halt whale meat sales after ruling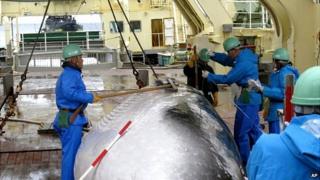 Japanese e-commerce giant Rakuten says it has told its online retailers to stop selling whale meat.
The company said the decision followed a ruling by the International Court of Justice in The Hague ordering Japan to stop its annual hunt in the Antarctic.
Japan called off the whale hunt after the ruling.
A report by an environmental group last month exposed Rakuten as the world's biggest online retailer of whale meat and elephant ivory.
Rakuten's latest announcement also includes a ban on dolphin meat sales.
"We issued a notice to all stores on 1 April asking them to stop sales of whale meat products by the end of the month," a Rakuten spokeswoman said.
"We made the decision... following the ruling by the International Court of Justice and a subsequent comment by the Japanese government that it will obey the ruling."
The BBC's Rupert Wingfield-Hayes in Tokyo says, however, that the court ruling does not cover the sale of whale and dolphin products, which is still legal in Japan.
Instead it appears Rakuten is using the court ruling as a cover to get out of a business it finds increasingly damaging to its image - especially in markets outside Japan, he adds.
The company, which has expanded in recent years, owns games and DVD retailer Play.com as well as the Kobo e-reader business. It also has a big stake in the Pinterest social network.
Rakuten said on Friday there would be no change to its online ivory sales, which are restricted to domestic shoppers.
Announcing its judgement on Monday, the International Court of Justice said that Japan had killed around 3,600 minke whales since 2005 under its Antarctic whaling programme, known as Jarpa II.
The court said the programme was not for scientific research, as Japan had claimed. Japan said it was "deeply disappointed" by the ruling but would comply.
Last month, a report by the UK-based Environmental Investigation Agency (EIA) said Rakuten was the world's largest online marketplace for whale meat and elephant ivory, and said its advertisements were akin to arming poachers.