Voters flock to polls in Mazar-e-Sharif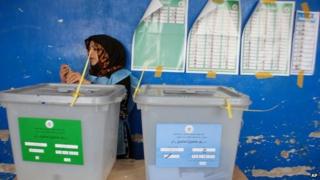 The fact that a shattered glass door at a polling station was the most dramatic incident reported on election day in the northern city of Mazar-e-Sharif is a reflection of the relative calm this part of Afghanistan enjoys.
It is not typical of the whole country but it offers a glimpse of a region which is an important commercial hub.
In the city famed for being the first to topple the Taliban more than a decade ago, voters arrived early and queued late.
Some 319 polling centres in Balkh Province, which includes Mazar-e-Sharif, witnessed entire families pitch up to vote en masse.
"People realise the importance of voting here, it is quite a well-educated population compared with other parts of the country", said Ezatullah Arman, the head of the Independent Electoral Commission in the province, as he gave his assessment of how election day had proceeded.
At the polling centre at Balkh University, men in leather jackets, shoulder to shoulder with others wearing the traditional shalwar kameez and the soft woollen hats one sees so often here, queued patiently after security checks at the gate.
They were directed to a room on the right to cast their ballots. Women were ushered towards a building on the left.
Breaking down doors
Those women in the traditional blue burqa flung them over their heads once the men were out of sight.
They too had run the gauntlet of security checks, some balancing babies on their hips.
"I'm 100% surprised to see so many ladies here," said Storai Mirzada, a young female student.
She was explaining how she had persuaded others in her family to vote when our conversation was abruptly brought to a halt by the sound of shattered glass.
A group of women queuing outside had surged forward in the rush to vote and smashed a glass door where a guard struggled to keep control.
It was clearly an accident but no less dramatic for that in a country where the sound of broken glass is more often associated with suicide attacks than over-zealous voting.
A colleague later remarked that despite turning up in large numbers to vote, Afghan women would, metaphorically speaking, still have many "more glass doors to break down" to improve their status in this deeply conservative society.
Nevertheless, election day felt like another small step towards equality.
Close race
The story at the polling centre at Abduzaid School was the shortage of ballot papers.
By mid-afternoon, as in so many other places, voting materials had run out. Officials from the official election commission were despatched to resupply the areas where demand had been higher than predicted.
A brief skirmish did break out as some of the men's patience reached breaking point, but the situation calmed down swiftly when an elder intervened.
"There were shortages in some centres by 11:00 am," admitted Mr Arman from the Independent Electoral commission.
"Nearly double the number of people voted than they did in the 2009 elections," he said, adding that turnout was particularly high among women.
Two elderly men, propped up on school desks outside, had given up any hope of casting their vote, saying they didn't want to be jostled by younger men in the queue.
But they wanted to remain at the polling station and enjoy watching a new chapter in their country's history unfold.
As counting got under way in a dimly lit classroom at the polling centre, observers from the three main frontrunners' campaign teams watched like hawks alongside independent observers.
Early indications in this part of Afghanistan are that here it was a closely fought race between all three main candidates, Adullah Abdullah, Ashraf Ghani and Zalmai Rassoul.
More than 630,000 people voted here, out of an estimated seven million nationwide and although the first official results are not due out until 26 April, it's expected that indications could start to trickle out later on Sunday.