Taiwan students to end China trade deal parliament protest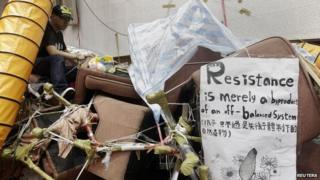 Students protesting against a trade deal with China say they will end their occupation of Taiwan's parliament.
The students, who have been occupying the legislature since the middle of March, say they will leave on Thursday.
They oppose a trade services deal with Beijing that they claim will hurt Taiwan's economy and make it vulnerable to pressure from China.
The group agreed to leave parliament after discussions with Speaker Wang Jin-pyng.
He told them he would not preside over debate on the bill - which was signed in June 2013 but has not yet been ratified by MPs - until legislation was in place that covered oversight of all deals with China.
Protest leader Chen Wei-ting said the students would leave parliament at 18:00 local time (10:00 GMT) on Thursday.
"It's time for us to return this movement to broader Taiwan society, where we will continue the struggle," he said.
Services sector
The protests were the biggest to hit the island in several years.
They briefly turned violent on 23 March, when another group of protesters stormed the government headquarters, leading to clashes with police.
The occupation of parliament began after ruling party MPs said a joint committee had completed its review of the trade pact.
The students want the current deal - which would allow the two sides to invest more freely in each other's services markets - to be scrapped.
But the government says it will help Taiwanese companies gain vital access to the Chinese market.
China formally regards Taiwan as a part of its territory, despite the island governing itself for six decades. The two sides split at the end of the Chinese civil war in 1949.
Earlier this year, however, they held their first direct government-to-government talks. In the past, all talks have gone via quasi-official organisations.
They have also signed several trade and investment agreements in recent years, and China is Taiwan's biggest trading partner - but some fear greater economic integration with China could threaten Taiwan.