Philippine top court defies church to back birth control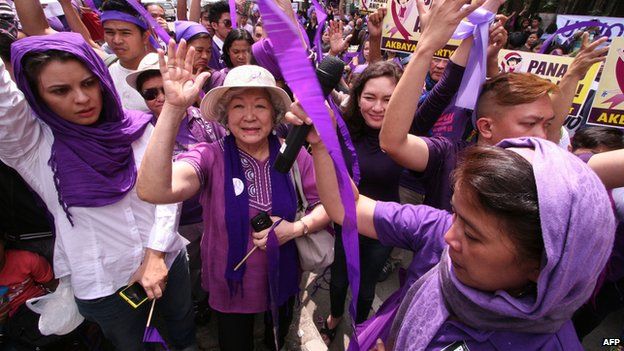 The Supreme Court in the Philippines has approved a birth control law, in a defeat for the Catholic Church.
The law requires government health centres to distribute free condoms and contraceptive pills.
The court had deferred implementation after the law's passage in December 2012 after church groups questioned its constitutionality.
Supporters of the law cheered as the court found that most of the provisions were constitutional.
The government of President Benigno Aquino defied years of church pressure by passing the bill.
It says the law will help the poor, who often cannot afford birth control, and combat the country's high rates of maternal mortality.
The provisions will make virtually all forms of contraception freely available at public health clinics.
Sex education will also be compulsory in schools and public health workers will be required to receive family planning training.
There will also be medical care for women who have had illegal abortions.
The Philippines is about 80% Catholic, and with a population approaching 100 million, has one of the highest birth rates in Asia.
The church fought fiercely against the bill, denouncing it as evil and a threat to life. It denounced politicians who supported it, including President Aquino.
Campaigners have warned of potential civil disobedience following the court ruling.
The Catholic Church has played a significant role in Philippine political life and continues to wield much influence over the population.
Related Internet Links
The BBC is not responsible for the content of external sites.