Bomb attack by separatists kills 13 on Pakistan train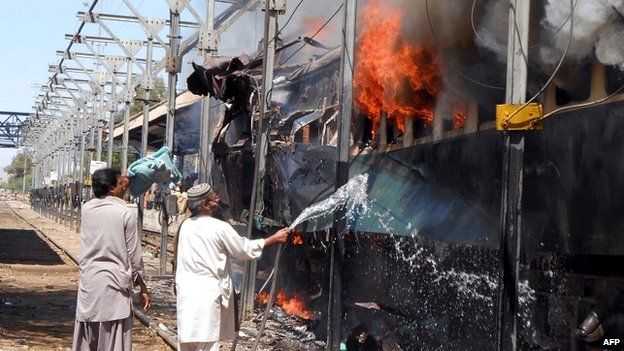 At least 13 people have been killed by a bomb blast on a passenger train in south-west Pakistan.
The explosion at a station in Balochistan injured dozens of people and officials said the death toll was expected to rise.
The United Baloch Army (UBA), one of several armed separatist groups in the region, said it was behind the attack.
The incident comes a day after Pakistani forces launched an offensive against militants in the province.
The train, known as the Jaffar Express, is a daily express service covering a 1,460km (900-miles journey from Rawalpindi in Punjab province to Quetta in Balochistan.
The bomb was set off as the train pulled to a stop and passengers were disembarking at Sibi station, around 160km (100 miles) south of Quetta, the provincial capital.
Mohammad Nazar, one of the police officers at the scene, said two of the train's carriages quickly became engulfed by flames and several passengers on board struggled to escape.
"We have recovered 12 dead bodies from the train," he said, adding that one of the injured had died after being taken to hospital.
"I can't say whether the dead are adults or children as they are beyond recognition," he added.
Pakistan's railways minister Khawaja Saad Rafique said the same service had been attacked only a few days earlier, but there were no casualties.
"A few days ago terrorists fired upon a train when it came out of a tunnel [in Balochistan], but they ran away when security forces responded to firing.
"We will have to review the security and find out the cracks from where the terrorists slipped in and planted the explosives," he added.
The Frontier Corps, a regional unit of the Pakistani army, said they killed 40 militants during an operation against separatist groups in Balochistan on Monday.
A spokesman for the UBA said the bomb blast was a "revenge attack" for the Pakistani offensive and warned of more attacks in the region in the coming days.
Bordering both Iran and Afghanistan, Balochistan has seen a low-level separatist insurgency for years as well as sectarian violence.
The separatists claim that the people of the region fail to benefit from its natural resources and are subjected to human rights abuses, which the government denies.