Vietnam frees Nguyen Tien Trung and Vi Duc Hoi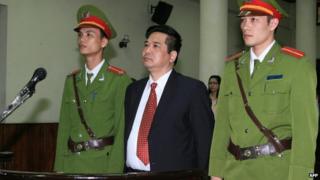 Vietnam has released two high-profile political activists amid ongoing free trade talks with the United States.
Democracy activists Nguyen Tien Trung and Vi Duc Hoi were freed from prison over the weekend.
Earlier in April, prominent activist Cu Huy Ha Vu was also released from jail. He has since flown to the US, which had campaigned for his release.
Vietnam is in negotiations with the US over the Trans-Pacific Partnership (TPP), a major free trade deal.
Members of the US Congress said that greater US-Vietnam co-operation should be tied to Vietnam improving its human rights record.
'Long way to go'
Vietnam, a one-party Communist state, has one of south-east Asia's fastest-growing economies. However, the government suppresses political dissent and religious freedom, and private media is banned.
Blogger Nguyen Tien Trung had served nearly five years of his seven-year jail term for subversion. He now faces three years of house arrest.
Former Communist Party official Vi Duc Hoi, who campaigned for democracy, served four and a half years of his five-year term for anti-government propaganda. He now faces five years of house arrest.
Vi Duc Hoi told US-funded broadcaster Radio Free Asia: "It was due to international pressure that the government of Vietnam had to release me."
Meanwhile, legal activist Cu Huy Ha Vu was released this month after spending three years in prison.
Mr Vu, the son of a celebrated poet who was also a leading revolutionary and confidant of the former president Ho Chi Minh, was sentenced to seven years in jail for spreading anti-government propaganda.
He had called for democratic reforms in Vietnam and tried to sue the Vietnamese prime minister twice over a mining project he said would harm the environment.
Speaking after the releases of Nguyen Tien Trung and Vi Duc Hoi, Human Rights Watch Asia director Phil Robertson said: "There are still hundreds more political prisoners languishing in Vietnam's prisons, so there is a very long way to go before we can say that Vietnam is making any sort of appreciable progress on human rights."