Japanese lawmakers visit Yasukuni Shrine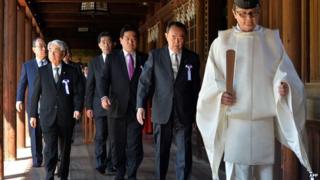 Almost 150 Japanese lawmakers have visited the Yasukuni Shrine, in a move likely to further sour ties with regional neighbours.
The controversial shrine commemorates Japan's war dead, including convicted war criminals from World War Two.
The visit, marking a spring festival, comes a day before US President Barack Obama arrives in Tokyo.
It also comes amid strained relations between Japan and its neighbours over geopolitical and historical tensions.
Prime Minister Shinzo Abe was not among those who visited the shrine, but he sent a traditional offering on Monday.
'Negative asset'
The Chinese foreign ministry denounced Mr Abe's offering as a "negative asset for Japan", saying that both it and visits by Japanese cabinet ministers reflected "the erroneous attitude towards history adopted by Japan's incumbent cabinet".
South Korea's foreign ministry said that Mr Abe had "romanticised Japanese colonialism and its war of aggression" by paying tribute to the shrine.
Japanese officials visit the shrine during seasonal festivals and on the anniversary of Japan's surrender in World War II.
Japanese lawmaker Hidehisa Otsuji told the Associated Press news agency that he visited the shrine "with a calm mind" and that there was "no further meaning" to the visit. "I have been visiting here for decades," he said.
Internal Affairs and Communications Minister Yoshitaka Shindo, meanwhile, said: "As this visit was my own personal visit, I don't believe that it will have any effect on the US president's visit."
Anything related to the Yasukuni Shrine will always be highly political, however, reports the BBC's Rupert Wingfield-Hayes in Tokyo.
China and South Korea view the shrine as a symbol of Japan's wartime aggression and have accused Tokyo of failing to show the necessary remorse for wartime atrocities.
When Mr Abe visited the shrine on 26 December 2013, the US embassy in Tokyo expressed disappointment and said Mr Abe's actions would "exacerbate tensions" with neighbours.
Washington has also been trying to get Japan and South Korea to set aside their differences and work more closely together, both on North Korea and in terms of counter-balancing China's growing power in the region.
Cargo ship dispute
Ties between China and Japan meanwhile, remain severely strained, over historical tensions and a territorial dispute in the East China Sea.
In a move that heightened concern, the Shanghai Maritime Court said on Saturday that it had seized a Japanese cargo ship because of an unpaid pre-war debt.
Tokyo lodged a formal protest on Tuesday, saying it remained "deeply worried" about the ongoing situation.
"We have told the Chinese side through diplomatic channels that we regret its seizure of the vessel," Chief Cabinet Secretary Yoshihide Suga told reporters. "We demand China take appropriate measures."