'More activity' at North Korea nuclear test site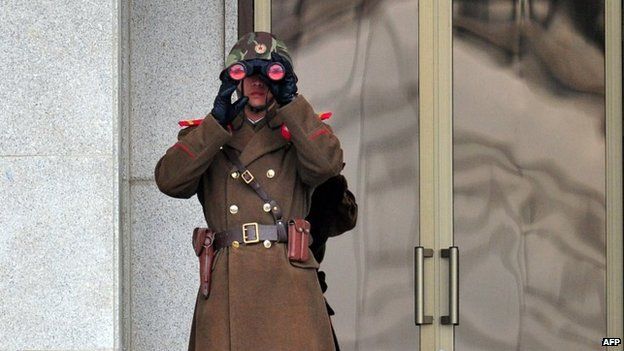 Activity has increased at North Korea's nuclear test site, South Korea says, ahead of a visit by US President Barack Obama to the region.
The military was "currently detecting a lot of activity in and around the Punggye-ri nuclear test site", a South Korean defence ministry spokesman said.
North Korea could be planning to hold a "surprise nuclear test or just pretend to stage a nuclear test", he said.
North Korea has carried out three nuclear tests in the past.
South Korea's foreign minister warned of the dangers of another.
"If North Korea goes ahead with another nuclear test as it has publicly warned, it will be a game changer," Yun Byung-se said.
North Korea's most recent test was in February 2013 - an incident that triggered several months of severe tension on the Korean peninsula.
It also carried out tests in 2006 and 2009.
All of the tests - which were signposted well in advance - resulted in the imposition of UN sanctions on Pyongyang.
UN Security Council resolution 1718, passed in October 2006 after the first nuclear test, bans North Korea from nuclear and missile tests.
South Korea's Joint Chiefs of Staff on Monday set up a special task force to monitor the situation, the spokesman said.
Multinational talks aimed at ending North Korea's nuclear ambitions have been stalled for years.
Late last month, North Korea threatened to carry out a "new form" of nuclear test. It is not clear what that means.
While Pyongyang has tested devices, it is not yet believed to have mastered the process of making a nuclear warhead small enough to deliver via a missile.
Mr Obama is due to arrive in South Korea on Friday, after a three-day visit to Japan.
Related Internet Links
The BBC is not responsible for the content of external sites.