Brunei postpones tough new Islamic law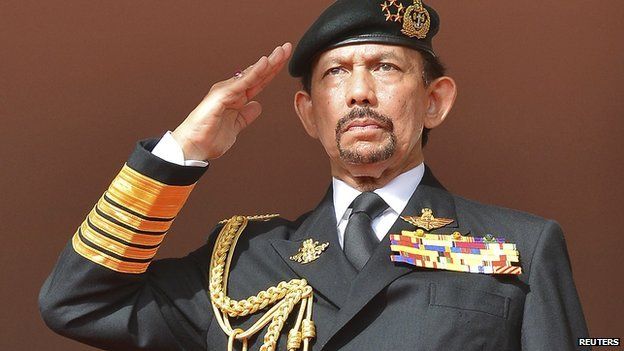 Brunei has postponed the introduction of tough Islamic criminal punishments that were due to begin on Tuesday.
Brunei said in October that it would introduce Sharia punishments including death by stoning for adulterers and the severing of limbs for theft.
Assistant Director of the Islamic Legal Unit Jauyah Zaini said the delay was "due to unavoidable circumstances".
No new date was given but an official told local media that the law would begin "in the very near future".
Brunei already adheres to a stronger form of Islamic law than neighbouring Malaysia and Indonesia, banning the sale and consumption of alcohol.
When he announced the move last year Sultan Hassanal Bolkiah, 67, who is one of the world's wealthiest men, called the code "a part of the great history of our nation".
The sultan said the new code would not change his country's policies and officials have said in the past judges would be given discretion in sentencing.
Brunei's civil courts are based on British law, a leftover from the sultanate's days as a British protectorate. Its Sharia courts were previously limited to family matters like marriage and inheritance.
"Under international law, stoning people to death constitutes torture or other cruel, inhuman or degrading treatment or punishment and is thus clearly prohibited," spokesman for the Office of the UN High Commissioner for Human Rights Rupert Colville told a news conference in early April.
"We urge the government to delay the entry into force of the revised penal code and to conduct a comprehensive review ensuring its compliance with international human rights standards."
Mr Colville added that the revised penal code "may encourage further violence and discrimination against women" due to "deeply entrenched" stereotypes.