Pakistan fighter jets target 'militant hideouts'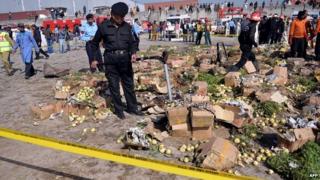 At least 16 suspected militants have been killed in air strikes in north-western Pakistan, officials say.
Warplanes targeted "terrorist hideouts" in the Khyber agency, which borders Afghanistan, a military statement said.
It was a response to a number of recent attacks on police and civilians in the capital, Islamabad, and the nearby city of Peshawar, the statement added.
A ceasefire between the Pakistani Taliban (TTP) and the government formally ended last week.
Earlier on Thursday, a suicide bomber blew himself up in the southern city of Karachi, killing four people and wounding 15 others.
Ground operation
The BBC's Shumaila Jaffery in Islamabad says the Pakistani fighter jets attacked two compounds in the Sipah and Koka-Khel areas of the Tirah Valley early on Thursday.
Military officials said Pakistani soldiers were also taking part in an ongoing operation in the Tirah Valley.
Peace talks with the TTP were a key campaign pledge by Prime Minister Nawaz Sharif in last year's elections.
The two sides agreed to a month-long ceasefire on 1 March, which was later extended to 10 April.
The government also suspended air strikes against militants.
But last week, the TTP said in a statement that it had "unanimously agreed not to extend the ceasefire" because the government had been "completely silent" about the group's initial demands.
Both sides had said that attempts to revive the peace process were continuing before Thursday's air strikes, with Interior Minister Nisar Ali Khan meeting TTP representatives in Islamabad on Wednesday.
There were a number of bombings in Pakistan during the ceasefire, but the TTP denied being behind them.
Correspondents say the TTP sits at the helm of a loose network of territorially independent militant groups who have different agendas and do not all favour peace talks with the government.