Philippine military clashes with rebels leave 15 dead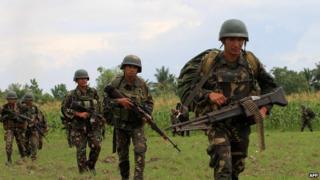 Heavy fighting in the southern Philippines has resulted in the deaths of 14 militants and one soldier, military officials say.
The clashes happened at a remote camp of Abu Sayyaf rebels near Patikul town in Sulu province late on Tuesday.
The Abu Sayyaf were using the camp as a training ground and a base for their operations, military officials said.
The Islamic group, which has links to Al-Qaeda, has been weakened over the years with the help of the US.
The Abu Sayyaf is on the US list of terror groups and has earned a reputation for kidnapping for ransom.
The militants are suspected of abducting a Chinese tourist and a Filipina hotel worker from Malaysia's Sabah Island this month.
Officials believe that the militant group only has a few hundred members left.
The rebels were trying to retake their camp in Patikul after soldiers managed to capture it on Monday, reports say.
"They tried to overwhelm our marines to regain their camp but we have back-up forces nearby and close air support," military spokesman Captain Ryan Lacuesta was quoted by AP news agency as saying.
"They resorted to mortar and M203 rifle grenade fire so our wounded mostly were hit by shrapnel."
At least 19 soldiers were also wounded in the clashes, reports say.
The clashes come a few days after US President Barack Obama visited Manila as part of his Asia tour. Before his visit, representatives from both countries signed a 10-year military pact which allows a bigger US military presence in the country.
Rotating US troops in the Philippine south have been helping the Philippine military fight the Abu Sayyaf for more than a decade.
Another rebel group in the Philippine south, the Moro Islamic Liberation Front, last month signed a landmark peace deal with the government, bringing an end to one of Asia's longest and deadliest conflicts.