Thailand to hold fresh election on 20 July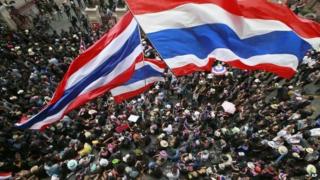 Thailand has announced that it will hold a fresh election, after the Constitutional Court invalidated its 2 February poll last month.
The new polls will be conducted on 20 July, in an agreement reached between the Election Commission (EC) and the prime minister, officials said.
PM Yingluck Shinawatra called the snap election in February amid major anti-government protests in Bangkok.
Her ruling party was expected to win, but the opposition boycotted the polls.
The protesters disrupted voting and last month the court declared the election unconstitutional because it did not take place on the same day across the country.
Political paralysis
"We agreed that the most suitable election day is 20 July and the EC will draft the royal decree for the prime minister to submit to the king for royal endorsement," EC secretary Puchong Nutrawong said.
It is not clear yet whether the anti-government movement will attempt to sabotage the July election or whether the main opposition Democrat Party will take part.
The deal between the government and the Election Commission to hold a new poll offers a possible way out of Thailand's political paralysis, although there are still many obstacles, says the BBC's Jonathan Head in Bangkok.
Ms Yingluck is also facing judgements in the next few weeks on two legal cases, which can result in a five-year ban from political office.
Thailand's political system has been paralysed since anti-government protests began in Bangkok in November 2013.
At the height of the demonstrations, protesters shut down key road junctions and blockaded government ministries. Their number has since declined.
The protesters, who are mainly urban and middle class, want Ms Yingluck's government replaced by an unelected "people's council".
They allege that her brother, ousted leader Thaksin Shinawatra, controls her administration and say Thailand's democracy has been corrupted by money.
Ms Yingluck and Pheu Thai remain very popular in rural areas, however, leaving Thailand deeply polarised.