Pakistan journalist Hamid Mir at judicial inquiry into shooting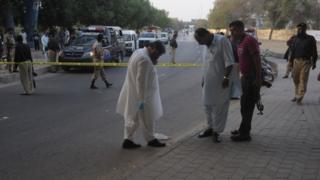 Hamid Mir, the Pakistani journalist shot last month, has made his first appearance at a judicial commission set up to investigate his shooting.
The three-member panel has been conducting hearings behind closed doors in the city of Karachi this week.
Mr Mir and his family have accused Pakistan's Inter-Services Intelligence (ISI) of orchestrating the attack in which he was shot six times.
The ISI has dismissed the accusation as baseless and misleading.
A popular and sometimes controversial anchor for the country's leading news channel Geo TV, Hamid Mir declined to make a statement before a joint investigation team - comprising the ISI and other security services - saying he believed the ISI was among the suspects.
Last week he issued his first statement to the media, once again blaming the country's intelligence agency for the attack.
The ISI angrily denounced the accusations when they were originally put forward by Mr Mir's brother, and the defence ministry says Geo brought the agency into disrepute.
Pakistan's media regulator is considering the defence ministry's request that Geo TV be suspended.
According to Geo TV reports, Mr Mir came to court in a wheelchair, gave a statement and then left. Reports say the judge told him that he should not be in court considering his condition.
Hamid Mir, the first journalist to interview Osama bin Laden after 9/11, survived an attack by the Taliban in 2012. He says he has received threats from various groups, including militants, in the past.
In this latest incident he was hit six times in the abdomen and legs after his car was fired on by men on motorbikes as he was leaving Karachi airport.
It remains unclear who fired the shots and no group has said it carried out the attack.
Pakistan is one of the word's most dangerous countries for journalists.