North Korea military official Choe Ryong-hae replaced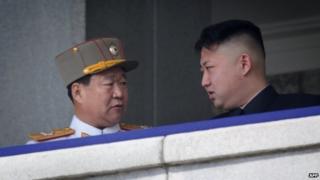 Top North Korean military official Choe Ryong-hae has been replaced, the KCNA state news agency reports, fuelling speculation he has fallen out of favour with the country's leadership.
Hwang Pyong-so, previously a top party official, was named as the director of the army's political bureau on Friday.
It is considered to be the second-highest military role after that of the state's supreme commander Kim Jong-un.
The move comes amid concerns Pyongyang may be preparing for a nuclear test.
North Korea has carried out three nuclear tests in the past and last month South Korea voiced concerns that there had been increased activity at a key site in recent weeks.
Last week it also conducted a fresh live-fire drill near a disputed maritime border with the South.
It is not clear what has become of Mr Choe, who holds several other senior positions within the politburo and military commission and was recently promoted to new vice chairman of North Korea's national defense commission.
But there has been speculation about his position in recent months as he made fewer political appearances.
He dropped from public view earlier this year for weeks, before appearing in March by the leader's side on television.
It is extremely difficult to verify details about the North Korean military and movements within the organisation and the leadership.
But last December, Kim Jong-un's uncle Chang Song-thaek was purged and executed, in a public and dramatic shake-up of the country's leadership.
Mr Choe's replacement Hwang Pyong-so addressed workers at a May Day banquet in his new role, KCNA reports.
He is known to be a mentor of Kim Jong-un and was said to be close to the country's leader for at least a decade, analysts say.