Hunger and desperation in Badakhshan mudslide village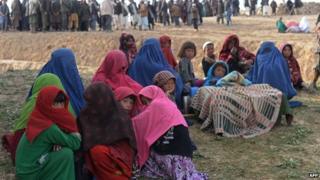 A few hundred survivors have spent a second night huddled on a bare mountainside in Badakhshan, close by the village engulfed by mud on Friday.
Tents arrived from international and local aid agencies for those who had lost their homes. And there was a distribution of basic food and blankets.
I witnessed an argument between a large group of men over a sack of bread that a police vehicle had brought to the area.
'Like thunder'
Survivors described how the mountain slipped twice on Friday morning.
The first time, soil and rocks poured down onto mud homes. A wedding celebration had been taking place in one of the compounds.
Six hundred rescuers came in from houses on the other side of the narrow ravine to assist, and they were engulfed by the second, far worse, mudslide.
Isratullah was one of the rescuers who managed to jump clear. He said: "Almost 400 houses were destroyed. When the people came to help, they were all killed. All of them are now under the mud."
Mohammed Rais, who also escaped the falling earth, said that the ground vibrated and then: "It fell with a sound like thunder."
His home lies 10m (32 ft) away from the leading edge of the mud slide, and he has left it, fearing another movement of the earth.
When the mountain collapsed it was like pouring water from a saucer into a bottle - shallow earth and rocks became new ground some 70m (230ft) deep.
The landslide has carved out a new landscape, creating a wide flat valley bottom, where previously there was a steep ravine. Peaks close by go up to 6,000m (19,600 ft).
A stream has been dammed up by the new obstacle, and there is a fear that rising water could flood the homes that remain.
'Fruitless'
For the second day a group of senior government officials are visiting the region.
The Minister for Rural Rehabilitation and Development, Wais Ahmad Barmak, told the BBC that government relief efforts are being co-ordinated with the "international community, including the United Nations agencies, and some NGOs that have a physical presence in the area. We have also mobilised our resources on the government side".
It is unlikely that there will be any serious effort made to recover the bodies.
Mr Barmak said that the government was bringing in heavy earth-moving machinery to see if there was any chance of finding people alive. But initial attempts on Saturday failed as the disaster site was inaccessible.
Rudimentary efforts by neighbours to dig into the soft mud with shovels were quickly abandoned as fruitless.
During Saturday night, a day after the mudslide, there was an earthquake measuring 4.6 on the Richter scale in the region.