Ousting of Thai PM: Your views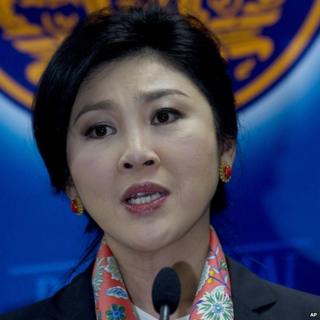 Thailand's Prime Minister Yingluck Shinawatra has been dismissed from office for abuse of power.
The Constitutional Court ruling also orders nine cabinet ministers to step down and follows months of political deadlock between pro- and anti-government supporters who have been trying to remove Ms Yingluck from office since November 2013.
BBC News readers in Thailand have been giving their reaction.
Sakapan Eamegdool, Bangkok
Finally the country can be rid of this inept and puppet prime minister. Hopefully we can move forward to true reconciliation. But perhaps it's just a dream, as her brother Thaksin Shinawatra and his cronies will not allow themselves to relinquish power without a fight. Thus we can look forward to more violence and counter-demonstrations since Thaksin and his gang will never accept any court ruling or a justice system that goes against them.
Jum Harvey, Ban Nong Sai, northern Thailand
I liked her very much. I voted for her and her brother. This makes me sad. I think the "yellow shirts" have forced her out. It is the Shinawatra family the opposition does not like. She is not the same as her brother. I have not read the report about what she has done but I am sad. Elections should decide leaders not courts.
Jum's husband Ian Harvey is a British ex-pat
Like many people round here, Jum's family support the Pheu Thai party. Her parents are in local politics and they are both elected to a local council here in Ban Nong Sai. Her father looks after the village and her mother is involved with infrastructure decisions. The feeling here is very much that the opposition has bought the courts to get rid of Yingluck.
The opposition has been campaigning for an unelected people's council to take charge for an undefined period of time. How is that a step forward for democracy? I think we are on the brink of a crisis.
The Pheu Thai party still has a lot of support in the countryside and I think we are going to see that, if not today then in the coming weeks.
Sitthipat Promsirivanich, Bangkok
I am a computer science student at university. My friends and I do not support the Shinawatra government, so of course I am pleased Yingluck is going, but I am concerned for the future.
I took part in an anti-government protest five years ago but I do not want a "yellow shirt" in government either because the "red shirts" will never accept it.
I think the only way to make people accept this is for the army to rule. That might be better. I am in favour of democracy but it does not work with supporters on both sides fighting all the time.
I think whoever you elect in Thailand will be corrupt. I think it will take maybe 10 years for a new generation of politicians who are less corrupt. Now I think it is fairer to both sides, red and yellow, if no-one gets their party in power; either for a neutral party to rule or for the army to rule. Democracy is important but peace is more important.
Parinand Varnasavang, Hat Yai in southern Thailand
I agree with the Constitutional Court's ruling. I think justice has been upheld.
I am encouraged that our checks and balances work. I prefer that the courts deal with this rather than the military being involved. If there are new elections the Pheu Thai party will win again unless there is electoral reform to allow proportional representation because of the way the boundaries are set up.
I am a policy researcher for a state agency and my first choice is to change the constitution to allow electoral reform, but in order to do that you need parliamentary approval and the Pheu Thai party will never agree to that because this situation favours them. I think the PDRT (the opposition Democratic Party) is too aggressive and radical in its opposition although I would say I am more PDRT leaning than anything else.
I am not worried if we have the Pheu Thai Party in government again because that is the most likely outcome and it is still better than having a military regime. I think it is okay to have Pheu Thai because I believe the legal checks and balances and the national anti-corruptions commission and the opposition will keep them in check.
Kevin Robertson, an ex-pat from Aberdeen, living in Bangkok
I'm getting ready to stock up on food and necessities as the "red shirts" will rally against this. The farmers from the north will probably come down again and blockade the streets with their tractors as they did a few months ago. With Yingluck gone, who will pay them for their rice now?
More protests, clashes and trouble are heading for Thailand. Everyone is saying so, even the Thai staff recognise it this time because no-one knows who will take over now. I work for an oil company and the last time there were severe protests in Bangkok in 2010 we block-booked out a hotel in Pattaya and moved all of our staff there because the protests were contained to a large extent within Bangkok and other isolated parts of the country. It was partly for their safety and partly so that we could continue working.
I remember the food was cleared from the shelves in the supermarkets very quickly so we are making sure we stock up this time, buying three of everything and extra supplies. The unstable political situation is putting big companies off from investing here, because every time you get one of these protests you have your work force en-masse taking the day off to go and protest and your production line shuts down.
Chotika, Suphanburi, central Thailand
I totally agreed with the Constitutional Court's final judgement. As a Thai person, I love my country and I would love to see all the Thais live happily and peacefully together. I don't like the way Thaksin used to rule the country and as the PM he shouldn't get anyone from the family involved in any government projects. That's what led to the large-scale of corruption under his leadership.
It's not only the farmers who were protesting, but various occupations, which proves to the world that we did this not out of emotion, but for the good of the country and all its people.
Rungcharn Saelee, Nakhon Ratchasima in Isan
When I compare the political situation in Thailand to Ukraine, Philippines and Syria, I feel Thailand is better at dealing with its corruption. In Thailand we have protests too but at least we try to use the court to make judgements with witnesses and evidence to punish our corrupt politicians.
Thai politicians don't care about conflicts of interest. Corrupt Thai politicians are only looking to see how they personally can benefit from the government budget. Thai politicians take advantage of the peaceful nature of people who support them but live far from the capital where they think we don't hear about their corruption.
Interviews by Sitala Peek