Nine Pakistan soldiers killed in Waziristan bombing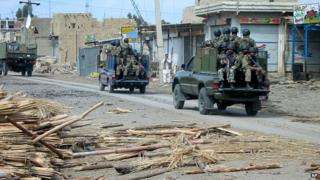 At least nine Pakistani soldiers have been killed and several critically injured by a roadside bomb in North Waziristan, the authorities say.
Local officials told the BBC that a paramilitary Frontier Corps truck had been targeted by a remote-controlled device in the tribal agency.
The vehicle was travelling near the Afghan border in an area which is a hotbed of Taliban activity.
The attack comes amid Pakistani peace moves with the militants.
There was no immediate claim of responsibility for the attack. An army spokesman told the BBC that the bomb was planted by "terrorists" but did not refer to any specific group.
The incident took place about 35km (20 miles) north of Miranshah, the main town in North Waziristan. The truck was travelling from Miranshah to Gulam Khan.
Helicopters were used to airlift the dead and the injured to the nearest hospital.
North Waziristan is one of seven lawless tribal districts where Taliban and al-Qaeda linked militants have strongholds.
The attack throws into further doubt peace talks with Pakistani Taliban (TTP) after the militants called off a short ceasefire last month.
Pakistan's Prime Minister Nawaz Sharif told BBC Urdu in an interview earlier this week that he is still hopeful the talks can succeed.
He added that the talks offered the "best option" of ending the country's long conflict.
Little headway has been made since February. All previous attempts to negotiate with the TTP have failed.
Militant infighting
Meanwhile, reports from the southern reaches of Shawal Valley say some 20 fighters were injured in an early morning shootout between the two warring groups of the Mehsud tribe, that forms the bulk of the TTP's fighting force.
On Tuesday, at least 12 fighters were reported killed in renewed battles between the two factions in the same area.
In April, more than 30 fighters were reported killed on both sides in week-long battles that took place around Miranshah, Shawal and parts of South Waziristan.
They were followed by a temporary ceasefire negotiated by leaders of the Haqqani network.
Shawal Valley is a strip of mountainous and heavily forested region that runs from the northern borders of North Waziristan southwards into South Waziristan and separates parts of the two Waziristans from the Afghan province of Paktika.