Thailand police fire tear gas at protesters in Bangkok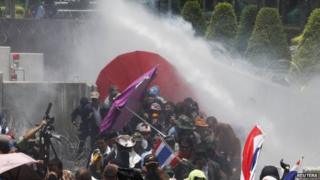 Thai police have fired water cannons and tear gas at protesters in Bangkok, two days after a court ousted Prime Minister Yingluck Shinawatra.
Hundreds of protesters have been holding a rally outside a government compound in the city.
Ms Yingluck was ordered to step down on Wednesday over the illegal transfer of her security chief. Another court has indicted her for negligence.
The protesters want the government out and the political system reformed.
At least five people were injured outside the Centre for the Administration of Peace and Order when they tried to topple concrete barriers that were topped with barbed wire, the Associated Press news agency said.
Thai newspaper The Nation reported that protestors also attempted to occupy television stations and force them to air their announcements. Police in riot gear have been posted outside the stations.
The protesters - mostly from the middle class and urban elite - say Ms Yingluck's government is controlled by her brother, ousted leader Thaksin Shinawatra.
They say Shinawatra family money has corrupted Thailand's democracy and want an unelected "people's council" to step in.
Ms Yingluck's Pheu Thai party, however, remains very popular in rural areas. It was widely expected to win a snap election called in February - which was disrupted by the protesters and subsequently annulled.
Ms Yingluck's party caretaker government remains in place and says it is working towards a 20 July election.
Weekend fears
Early on Friday, protest leader Suthep Thaugsuban called on supporters to rally at several sites in Bangkok.
"We will regain our sovereign power and set up a people's government and a people's legislative council," Mr Suthep said as he led a march.
"We will march on all television stations. We ask city residents to surround police cars and police headquarters to stop them from hurting our people," he added.
"Red-shirt" supporters of Ms Yingluck's government, meanwhile, plan to protest in Bangkok on Saturday.
The presence of both rival camps on the streets of the capital has raise fears of violence. So far, 25 people have been killed since the anti-government protesters began their campaign in November.
The caretaker government - now led by former Commerce Minister Niwattumrong Boonsongpaisan - says it plans to work towards another general election in July, but the opposition says it will not contest the polls and that political reforms need to be introduced first.
As for Ms Yingluck, Thailand's anti-graft body ruled on Thursday that she should be indicted over a controversial rice subsidy scheme.
The case will now be voted on at the Senate. If impeached, Ms Yingluck will be barred from politics for five years.
On Wednesday, a Thai court ordered Ms Yingluck and several cabinet ministers to step down over separate charges.
Ms Yingluck's supporters say the courts are biased against her and traditionally side with the urban elite at the heart of the current protest movement. They view the moves against her as a judicial coup.
The courts have been instrumental in removing pro-Thaksin governments in the past.
In December 2008, a government of Mr Thaksin's allies fell from power after a court disbanded their political party for electoral fraud, allowing the opposition to form a government.
Thailand has faced a power struggle and political deadlock since Mr Thaksin was ousted by the military as prime minister in a 2006 coup.