Could the Philippines be Asia's next tech tiger?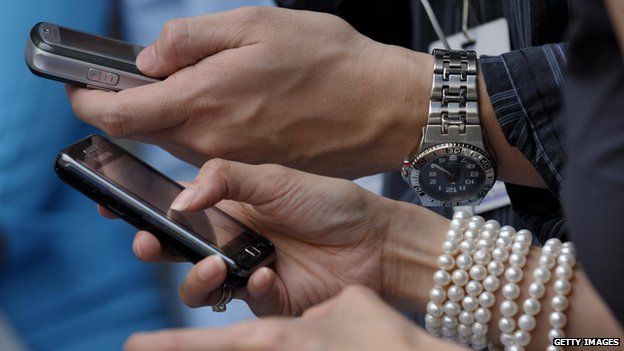 The Philippines may have the fastest-growing economy in South East Asia but it also has the slowest internet in the region. Despite this, some think they have spotted an opportunity that could turn the country into Asia's next tech tiger. Aurora Almendral met some of the true believers.
On paper, the Philippines has all the ingredients of an emerging tech tiger: a fast-growing middle class with money to spend; a 100-million strong, largely English-speaking, population addicted to social media; plus low labour and operating costs.
But go anywhere on the islands and you'll notice frustrated faces on many of those with a handheld device in their palm.
Internet speeds are atrocious - a measly 3.6 megabits per second (Mbps), well below the regional average of 12.4 Mbps. Never mind the US average of 22.3 or near neighbour Singapore with 61 Mbps.
Coverage is patchy at best for mobile. Venture outside of the cities and you might as well be in the 1990s.
In the words of Peter Fabian, a recently arrived tech entrepreneur, to any seasoned Silicon Valley investor the Philippines looks like "the end of the world".
For years, the Philippines lagged behind the rest of South East Asia, and entrepreneurs looking for the next tech hub overlooked the country for other nearby booming economies, like Thailand and Singapore.
But, says Mr Fabian: "We see the Philippines as a good testing market."
After researching emerging markets across the globe, he decided on the Philippines for his start-up, which aims to use big data to build a credit card company aimed at the middle class who are not customers of traditional banks.
Furthermore, there are a lot of unexplored opportunities and, with few experienced tech entrepreneurs around, not much competition.
Mr Fabian was also attracted to the fact that, as a former US colony, the country shares many US institutions and has a similar culture, making the Philippines feel very familiar.
"The attitude towards foreigners is very welcoming, which cannot be said of a lot of people in Asia," says Mr Fabian.
The Philippine start-up scene is small, but people are starting to trickle in. Some are adapting Western products to the local market, like fast fashion ecommerce, daily deals sites or taxi service apps.
Others, like Ron Hose, a Silicon Valley-bred, Manila-based entrepreneur and investor, are looking at solutions to more local challenges.
"There are a second set of problems that are unique to emerging markets that companies and entrepreneurs in developing countries are not really building products for," he says.
"An entrepreneur sitting in an office in Silicon Valley," Mr Hose says, "is not thinking about the problems of a Filipino who is sitting in a Jeepney [local taxi] for an hour and a half a day to go to work, or whose home gets flooded 10 times a year during typhoons."
Mr Hose's company, Coins.ph, provides financial services for people without bank accounts. He says that while each country is unique, there are big fundamental problems that are common across emerging markets, such as lack of access to education or the fact that people are unbanked.
"If you solve one of these needs, then the market is larger than any one of these countries. If you can solve banking for people in the Philippines, you can solve it for 500 million people in South East Asia," he says.
Richard Eldridge is another tech entrepreneur based in Manila. He co-founded Lenddo, an online loan company that wants to help consumers use their social media activity to develop creditworthiness, giving them access to financial services.
He has been working in the Philippines since 2001, and has had a front row seat for the Philippines' economic growth.
He previously ran a large outsourcing company, and found that many of his employees - the very middle classes he seeks to serve - kept asking him for loans.
"It fascinated me that they were coming to me and not going to a bank and getting loans," Mr Eldridge says.
He left the multinational in 2011 to start Lenddo with New York-based chief executive Jeff Stewart. The Philippines remains Lenddo's home base and largest market but in the past year it has expanded to Mexico and Colombia and is looking at 30 other emerging countries.
Local problems, local solutions
While foreigners have made a mark in the Philippine start-up sector, most entrepreneurs are locals, solving local problems.
Norris Jay Perez was a programmer for a small company before he struck out on his own in 2009.
For four years he tried and failed at 10 different start-up ideas before coming up with Apptivate, a platform that allows smartphone users without credit cards to buy apps.
He had the idea when he wanted to buy an app for his second-hand smartphone but could not because he did not have a credit card.
Nearly 60% of Filipinos own a smartphone, computer or tablet, significantly higher than comparable emerging markets such as India, Vietnam or Indonesia.
Mr Perez says that only 3% use Apptivate and he believes he is tapping into a large market with plenty of room to grow.
However, spotty mobile coverage and slow internet speeds are hampering adoption.
Mr Perez admits he spends time fielding emails from Apptivate customers, frustrated because slow and patchy mobile internet connections kept them from downloading apps they had already paid for.
The situation has attracted the ire of Senator Paolo Benigno Aquino IV, who requested a Senate investigation to find out the cause of slow internet speeds in the Philippines and how it was affecting the ease of doing business.
"Lack of good internet is going to slow down economic growth in the Philippines, that I know for sure," says Ron Hose of Coins.ph. But he adds: "It's not going to slow down tech entrepreneurs."
He thinks the bigger issues are an underdeveloped funding infrastructure and a lack of tech talent.
"The good ones have left for Singapore or Hong Kong. It makes it hard for tech entrepreneurs to operate here," he says.
Lenddo solves its talent shortfall by outsourcing the most complex data engineering work to New York, while hiring the rest of its team locally.
For now, the Philippine tech industry is for true believers, willing to build not just a business, but an industry from the ground up.