WHO rejects Pakistan CIA fake vaccination claim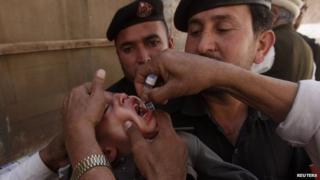 The World Health Organisation has rejected Pakistan's claim UN agencies were involved in a CIA fake vaccination programme to trace Osama Bin Laden.
A doctor accused of running the 2011 programme to help confirm the al-Qaeda leader lived in Pakistan is in jail.
Last week the foreign ministry alleged that UN agencies were involved in the campaign, claiming it led the public to doubt genuine polio vaccination drives.
The WHO says Pakistani officials now accept the statement was made in error.
The global health agency recently warned that polio has re-emerged as a public health crisis. Pakistan is particularly badly affected as one of three countries where the virus is endemic.
But Pakistan has also struggled to prevent attacks against polio workers administering the campaign and the Taliban - who view the immunisation programme as a cover for Western spying - have banned vaccinations in the tribal region of North Waziristan.
'Incorrect statement'
Dr Shakil Afridi was accused of using the cover of a door-to-door vaccination campaign to help the US find Bin Laden in 2011.
He was convicted of alleged ties to militant groups and imprisoned in 2012 - a move widely seen as punishment for his alleged role in the Bin Laden raid, which he denies.
But days after the WHO's most recent statement on the re-emergence of polio, a foreign office spokesperson told reporters that suspicion fostered by the CIA's fake vaccination programme was a major reason behind the rise in polio.
The foreign office said: "A fake campaign of vaccination was conducted in Pakistan in which the UN agencies were also used."
But the WHO has disputed this, saying it was "deeply concerned by the circulation of an incorrect statement that was made during a press conference".
It said that the statement "wrongly and erroneously alleged the involvement of United Nations agencies in events conducted by Dr Shakeel Afridi".
But it went on to say that following the UN's formal objection, it had received assurances from the government that the foreign office statement was "categorically incorrect".
On Saturday the lawyer for Dr Afridi told the BBC that he had quit the case after receiving frequent death threats.