Pakistan police charge 68 Pakistani lawyers with blasphemy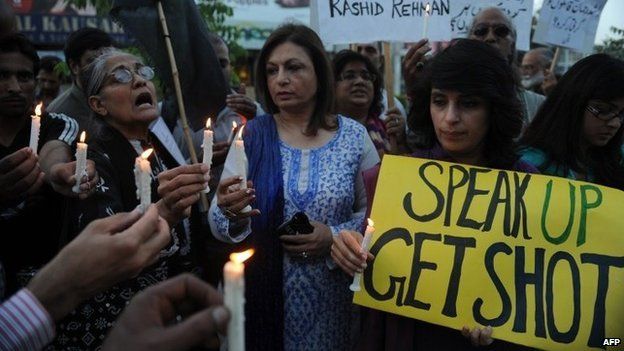 Pakistani police have charged 68 lawyers with blasphemy in what is thought to be the biggest ever case of its kind in the country.
The charges were brought in Punjab after lawyers protested when police detained one of their colleagues.
During the protest the lawyers are accused of insulting a companion of the Prophet Muhammad. Police say they acted after a local man complained.
Critics say blasphemy laws are often misused to settle scores in Pakistan.
The case in Punjab's Jhang district was registered against eight named lawyers and 60 unidentified ones.
The lawyers had been campaigning for the arrest of five policemen they accused of illegally detaining and manhandling a lawyer in the city of Jhang last week.
A complainant told the police his feelings had been hurt when some lawyers ridiculed a police officer who shares his name with the second Caliph, Omar.
The most serious blasphemy charges can carry the death penalty in Pakistan. But in this case the defendants face at most three years in jail if the case comes to trial and they are convicted, the BBC's M Ilyas Khan in Islamabad reports.
Many believe the case is an example of how easily the blasphemy laws can be misused, he says. They say the case is the result of a feud between police and the legal fraternity.
No arrests have been made.
The investigating officer in the case, Inspector Ashiq Hussain, told the BBC that since the entire legal community of Jhang city had become involved, efforts were being made "to resolve the matter, and it may not lead to arrests".
Even so, those named in the case, some of them Shia, may not now feel safe in the future in a country with a history of sectarian violence, our correspondent adds.
Allegations of blasphemy against Islam are taken very seriously in Pakistan. Correspondents say members of minority groups are often unfairly targeted.
Last week a lawyer representing a man charged with blasphemy in Multan, in Punjab, was shot dead by gunmen.
Related Internet Links
The BBC is not responsible for the content of external sites.