Afghan notebook: Pulling together in face of disaster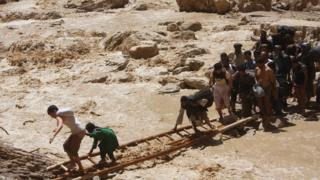 Floods and landslides have claimed hundreds of lives in northern Afghanistan. Floodwaters have cut the main road link between north and south, but a wave of sympathy for the victims is uniting Afghans as never before.
Eighteen-year old Amanullah's world fell apart last month.
The poor ethnic Uzbek farmer from Jowzjan province was at a friend's wedding in the nearby town of Sheberghan when he got the news.
All six members of his immediate family - parents, two sisters and two brothers - had been swept away and killed, when flash floods struck their village.
When Amanullah returned, his house had been reduced to rubble, and the only trace of his family was a doll which his little sister had stuck on a tree.
His family are among the dozens of people killed in floods that have swept across northern Afghanistan in recent weeks. Thousands of houses have been destroyed and tens of thousands of people have been affected.
This week flood waters also washed away a big section of the main north-south road in the Tashqorghan gorge, effectively cutting off the north of the country.
Thousands of travellers are now stranded on both sides. Emergency repair work will take at least 10 days.
Further north-east in Badakhshan province, people are still reeling from a devastating landslide at the start of the month.
Three hundred houses were engulfed in thick mud in one of the poorest districts, Argo. Hundreds of people, including many women and children, are thought to have been killed.
After news of the landslide emerged the government declared a day of national mourning and ordered emergency assistance.
But it was the public response to the disaster that has been unprecedented.
In Afghanistan ethnicity is still a big issue. The victims of the Argo tragedy were ethnic Uzbeks, but all the country's different groups - from Pashtuns to Hazaras and Tajiks - have come together to help.
Afghan Facebook users have been posting messages commenting on the rare solidarity and unity which Argo seems to have inspired.
Caravans of aid collected by people across the country including the southern provinces of Kandahar, Helmand, Zabul and Uruzgan have been arriving in Badakhshan.
"Love is when people from Kandahar drive hundreds of miles to take aid to the Badakhshan disaster victims," read one message on the Twitter microblogging site.
Radio stations in Kandahar in the south stopped playing music for two days out of respect for the victims.
"There is no enmity among ethnic groups," a donor from Kandahar told the BBC. "It's the politicians who use ethnic division as a tool for their own interests."
The Afghan national cricket team have also got involved.
Returning home last Friday after winning the Asian Cricket Council Premier League, they dedicated their victory to the landslide victims.
And there was none of the usual dancing and music to welcome the team back home and celebrate.
The government has promised continued aid to help the flood and landslide victims rebuild their lives.
But Amanullah says nothing can bring back what he has lost.
For him and for many others like him life will never be the same again.