Indonesia's presidential frontrunner picks running mate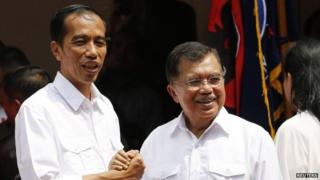 The frontrunner in Indonesia's upcoming presidential election has chosen a former vice-president as his running mate.
Joko Widodo - also known as Jokowi - of the Indonesian Democratic Party of Struggle (PDI-P) announced his partnership with Jusuf Kalla on Monday.
Mr Widodo was elected as Jakarta governor in 2012 and is seen as a favourite for the 9 July election.
Former General Prabowo Subianto is standing against him.
Mr Kalla, 72, seen as a popular senior politician, was vice-president under President Susilo Bambang-Yudhoyono from 2004 to 2009. He has been serving as head of the Indonesian Red Cross since leaving office.
Mr Kalla, from the Golkar party, said on Monday he was "grateful" to be chosen and was hopeful that their success would bring "greatness and prosperity of the nation".
However, in a surprising development, Golkar officials announced on Monday that they were backing Mr Subianto.
Mr Widodo, who served as a mayor of a small town before becoming governor of Jakarta, has proved a hit with voters because of an approachable and down-to-earth image.
Critics, however, say that his policies and vision as a future president remain unclear, says the BBC's Alice Budisatrijo in Jakarta.
On the other hand, Mr Subianto, from the Gerindra party, has been accused of human rights abuses in the past. But he has since reinvented his reputation as head of the farmers' union and a fiery campaigner for the poor, our correspondent adds.
Mr Subianto has said Hatta Rajasa, a former economics minister, will be standing with him.
The candidates are due to register with the election commission by 20 May.
The announcements followed parliamentary polls in April which determined which parties could field candidates in the presidential election.
Mr Jokowi's PDI-P failed to secure 20% of the seats in parliament or 25% of the total vote, so it has had to form a coalition with other parties to nominate him for the presidency.