North Korea: Apology over Pyongyang building collapse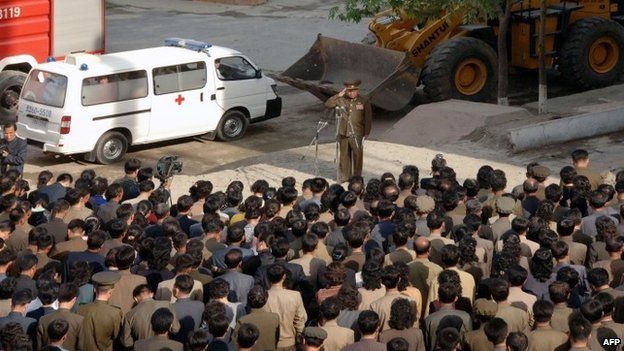 North Korean officials have apologised for the collapse of an apartment building in Pyongyang which is feared to have killed scores of people.
The accident in Pyongyang on Tuesday was reported on Sunday morning by the official Korean Central News Agency.
It said that the collapse happened in the city's Phyongchon district.
While it is not clear how many people died, some reports say that the "unimaginable" accident could possibly have killed more than 100 residents.
The construction of the apartment block "was not done properly and officials supervised and controlled it in an irresponsible manner", the news agency said.
It added that an "intensive" emergency rescue effort had been carried out to rescue survivors and treat the wounded.
KCNA did not provide detailed casualty figures or explain the cause of the collapse, but said it had left Pyongyang citizens "greatly shocked".
Analysis: Charles Scanlon, BBC News
North Korean state media made no mention of the building collapse for five days, and when the report finally came it gave no casualty figures or details of what happened. That will raise few eyebrows in a country where the media is understood to be an organ of state propaganda and nothing more.
However, the sight of senior officials offering profuse apologies to the public is extremely rare. Self-criticism is an important tool of state control in North Korea, but it's normally kept behind closed doors.
Parallels with the South Korean government's abject apologies for last month's ferry disaster in which 300 people died are inescapable. North Korea enthusiastically joined the criticism of the South Korean president and publicised details of the disaster.
Perhaps it now feels obliged to put on a display of accountability and contrition for its own people, who are bound to see the comparison.
A South Korean official, speaking to the AP news agency on condition of anonymity, said the collapsed building was a 23-storey apartment complex.
Another unidentified official told Reuters that the building was thought to have held 92 households.
"Hundreds are presumed to be dead, assuming that each family has an average of four members," he said.
It is not uncommon for residents of partially built apartment blocks in North Korea to move into them before construction officially ends, correspondents say.
A senior Pyongyang official was quoted by KCNA as saying that North Korean leader Kim Jong-Un "sat up all night, feeling painful" after being told about the collapse.
It is estimated that about 2.5 million people - mostly top party members or other privileged people - live in Pyongyang.
The city's inhabitants are known to have more regular electricity supplies and better access to food, goods and other services compared with those living elsewhere in the impoverished and inaccessible country.
Related Internet Links
The BBC is not responsible for the content of external sites.